About us
Progressio is an international development charity supporting poor and marginalised people, especially women, to empower themselves
You will be standing in solidarity with poor and marginalised people throughout the world.
You will be part of a community of people around the world working together to achieve lasting change.
You will be contributing to long term, lasting change in the lives of poor and marginalised people and communities.
We are registered in the UK as a charity (number 294329) and a company limited by guarantee (number 2002500). Read more about what we do in our annual reviews and trustees' reports.
Live Below the Line for Progressio
Want to join the Progressio team for this year's Live Below the Line? Click here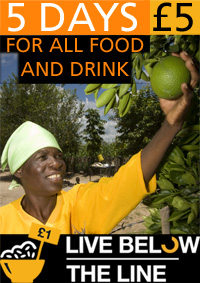 Get news from Progressio
Don't worry we won't pass on your details
Follow us on twitter
For great pictures and news from the Global South:
Contact us
Progressio
Units 9-12, The Stableyard
Broomgrove Road
London SW9 9TL, UK
phone: +44 (0)20 7733 1195