Events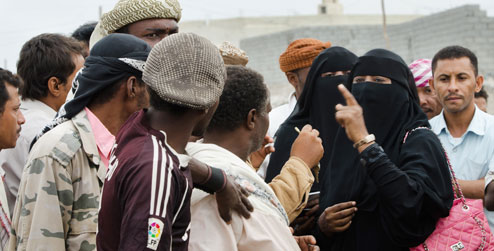 Women, (dis-)empowerment, and (social/political) change
UN-CSW side event, New York, Thursday 13 March 2014
Faith, gender and power are closely interlinked. Together, they shape social and political structures that have an impact on people's consciousness, attitudes and behaviours.
Faith has been blamed for perpetuating and justifying gender inequality. For example, faith can be used to rationalise patriarchal values and practices – those practices confer power and privileges to men at the expense of women. This can result in women becoming disempowered and unable to bring about change.
On the other hand, faith can empower women. It can increase their power to make a difference in society (resist/act/inform); their power to work with others to create change; and their power within (self-esteem, confidence and dignity).
This event aims to explore ways in which faith can empower or disempower women. The rationale is to identify strategies and approaches to the role of faith in women's development and rights that can help women to empower themselves and/or others.
Progressio side event at the UN Commission on the Status of Women
For more information or to reserve a place please contact Fatima Haase
Download flyer with full details and list of speakers
Download speaker biographies (PDF)
Photo: Kvaiah Ebrahim (with pink bag) and Fatima Al-Zabede, 'women champions' in Al-Hodeida, Yemen, talking to men in Al-Salam district (photo © Amira Al-Sharif/Progressio)
---
Youth Parliamentary Event
Tuesday 25 March 2014, 6.30-8.30pm
Comittee Room 15, Main Corridor, Cromwell Green Entrance, House of Commons, London, SW1A 0AA
Progressio has teamed up with good friends at the Independent Academic Research Studies, The Prince's Trust and Impetus to be a part of an event in Parliament on youth unemployment. Progressio volunteers Clare Everett and Tom Beresford will represent Progressio to talk about the benefits of the International Citizen Service programme they have both been overseas with. Both Labour MP Sarah Champion and Conservative MP Tim Loughton will speak at the event and they will not only be taking questions, they will also be asking questions of the passionate young people speaking.
If you would like to come along to be a part of this and take the opportunity to ask questions of our MPs, drop Charlee an e-mail at charlee@progressio.org.uk.
---
Need a speaker?
Already organising an event, and need a speaker? Or thinking of organising a talk for your local church or community group? We're bursting with experts who'd be happy to come and talk to you! Please get in touch with Daniel Hale to find out more and make a booking.
---
Share the secret!
And why not share the secret about Progressio and our work? Click here to find out more about holding a fun, informative and challenging event in your community - and show your solidarity with poor communities in countries around the world.
Book a brilliant Progressio speaker
If you'd like a Progressio speaker at your event, please get in touch
Join the Progressio community
Sign-up to our email newsletters: