Events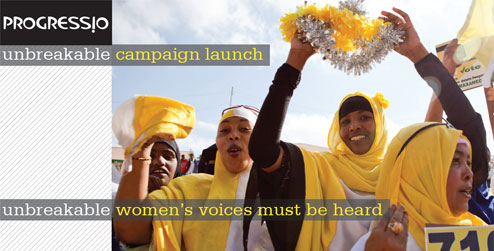 Unbreakable campaign launch
Against some of the worst odds in the world, women in 'fragile states' like Somalia, Zimbabwe and Yemen are organising to improve women's lives by tackling the political, economic and social structures that keep them poor and marginalised. And they're making powerful progress.
We know that women must be at the heart of nation building. As a new development agenda takes shape from 2015, these unbreakable women's voices must be heard. We must stand with them.
Join us in London or Manchester to hear more about this ground-breaking campaign and discover how to take action with Suad Abdi, Progressio's programme head in Somaliland.
Manchester activists' day and launch
Saturday 18 February, 2-6pm
Central Manchester, venue TBC.
Book your space now
London launch
Tuesday 21 January, 7-9pm
St Mary Moorfields Church, 4-5 Eldon Road, London, EC2M 7LS
Book your space now
(Photo: Women campaigning during elections in Somaliland © Kate Stanworth/Progressio)
---
Need a speaker?
Already organising an event, and need a speaker? Or thinking of organising a talk for your local church or community group? We're bursting with experts who'd be happy to come and talk to you! Please get in touch with Daniel Hale to find out more and make a booking.
---
Share the secret!
And why not share the secret about Progressio and our work? Click here to find out more about holding a fun, informative and challenging event in your community - and show your solidarity with poor communities in countries around the world.