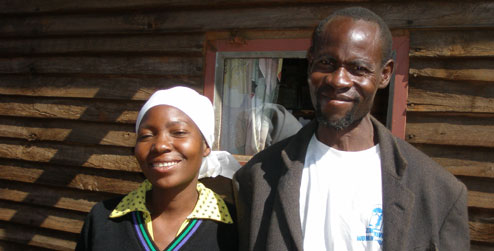 Khumbulani: My Apostolic church is not much interested in HIV. The only advice they give is for us to behave correctly. The Pentecostal churches seem to do more. My church knows that members have HIV, but they advise us that if we pray to God we will get better.
Jane: My relatives never used to allow us to go to clinics or take medicine because this is not the practice of many Apostolic churches. However, last year, the church leaders said those who want to go to the clinic may do so, but those who believe can still be healed by God. But I think we can do both.
People living with HIV don't want church members to know because they will be stigmatised.
Khumbulani: But it is all up to you. Prayer alone will not work. You must go to the hospital. I have noticed that there is a change in the Apostolic churches on this issue – about treatment for HIV. Now, they are saying we can go to the hospital or even that we should go for treatment.
Jane: I want to share my own story. Ever since I found out I was positive and began going to the clinic, my family members (who do not know I am positive) have been asking each other "what does she have?" But they do not ask me. Those who know I am positive ask "how did you get it?" I wish that God would help them to understand that this was not my choice. I did not choose to be HIV-positive. It just happened. I had no choice or control.
I have been helped by the medications, but our major problem is food.
Khumbulani: We have no proper accommodation. I look forward to being assisted to get decent accommodation. I am facing discrimination when I seek employment, so I think it would be better if I can find self-employment. I also support two children left in my custody by my brother.
I believe the ARV treatments and the help from the Dominican Sisters are gifts from God.
Jane: I too believe it is a gift from God. Many are dead, but we are alive and my children [one boy and two girls] are negative. I believe God worked in our lives because my last child, now seven years old, is negative – but when he was born my husband was very sick with HIV.
---
Khumbulani and Jane are a married couple living with HIV in Hatcliffe, an informal settlement near Harare in Zimbabwe. This is an edited extract from their interview published in Progressio's report Prayer alone is not enough (1.86MB PDF).
Photo of Jane and Khumbulani © Progressio
---
Return to HIV and faith page