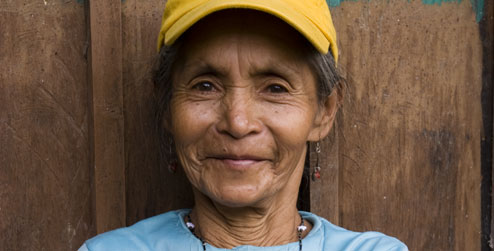 "I'm an active member of the local agro-ecological collective and I want to tell you about our lives here," says Luis Gomez from the village of El Cristal in Ecuador.
"I was born here and the reality is before this project started our soil was very bad. We had cut down many trees and we had problems with erosion and drought because of that."
Luis and other farmers have been learning the techniques of agroecology – a socially, environmentally and economically sustainable approach to farming. The result is better food security, greater independence, more confidence.
"We know now that what we were doing before was really bad," he says. "CEA (Progessio partner organisation Coordinadora Ecuatoriana de Agroecología) is helping us to recuperate our water and seeds, and we are feeling stronger as families."
This strength shines through in the eyes of Zoila Baraja, who has spent her whole life in El Cristal – and has never regretted it. "I work most days until the sun goes down," she says.
"The work is hard, but I love it. I grow sugarcane and corn, and I make sure I keep the soil healthy every year.
"I won't leave this land until I close my eyes and God brings me to heaven."
---
Photo: Zoila Baraja (Photo © Santiago Serrano/Progressio)