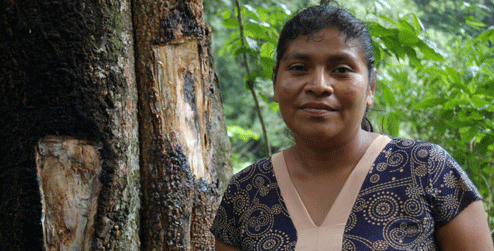 Illegal logging is no picnic. It can have devastating consequences on poor and marginalised communities. We asked our Latin America and Caribbean Policy Officer, Lizzette Gonzalez-Robleto, some questions about illegal logging and the Big Forest Picnic.
First up, why are the forests vital to poor and marginalised communities in developing nations?
Forests are important for poor and marginalised communities for lots of reasons. They:
protect other natural resources such as water
reduce environmental degradation (i.e. erosion, desertification, carbon emissions, etc.)
safeguard bio-diversity (flora and fauna)
provide opportunities for income generation (i.e. eco-tourism, timber, fruits, etc.)
are a source for medicinal plants
decrease the devastating effects of environmental events (i.e. seasonal flooding, hurricanes, erosion, climate change, etc.)
are integral to people's customs and traditions (i.e. hunting, festivals, ceremonies, etc)
are a source of enjoyment and beauty for people (i.e. picnics, adventure treks, landscape, etc)
And why is this issue significant for Progressio?
Progressio started working on illegal logging at the request of partner organisations in Latin America and the Caribbean. This issue is of particular relevance to them because illegal logging:
has a negative effect on people's rights and poverty levels: it brings about environmental degradation and affects water supplies, exposing communities to environment vulnerability.
undermines Government and encourages corrupt practices at all levels of the supply chain.
is a strong driver of climate change, through the release of billions of tonnes of carbon dioxide (CO2) and other greenhouse gases into the atmosphere.
undermines accountability and unwittingly forces consumers to purchase timber obtained from illegal sources.
contributes to the loss of biodiversity and reduces the opportunities for sustainable management and good management of the world's forests.
Working against illegal logging is a risky business. It can put the lives of our partners and staff in danger because there are criminal elements associated with it. During our research we found out about all kinds of threats, kidnappings, assassinations, telephone hacking, etc. Scary stuff.
Our analysis suggested that to bring any respite for those communities – and nations - affected by this illegal trade we needed to sort out the irregularities in the timber trade including the demand end of the supply chain.
So it's vital that consumers continue joining forces with interested institutions (i.e. environmental and development NGOs, governments and the timber businesses) to bring to an end this criminal trade. This would completely close the door on illegally logged wood ever entering our markets and homes.
Progressio recognises that there are challenges in making the timber sector more efficient and transparent at both ends of the supply chain (supply and demand). However, efforts would be in vain unless it is acknowledged that:
The legal structures in the timber producing countries, more often than not, are not strong enough to make sure that complex timber laws are enforced.
In most timber producing countries there are not sufficient laws that can provide an adequate level of accountability.
There might not be competent and accountable authorities in the timber producing countries that could verify and implement risk-based approaches.
And Progressio continues to support the work of partner organisations in countries like Honduras to ensure that they have legal safeguards and international support. Only in this way will these communities be able to operate safely without risking their lives and their livelihoods. We don't want to stop the timber trade but it is important to manage logging in a sustainable way so everyone can enjoy these resources for years to come.
Tell us about the new EU regulation and where it's at
The new legislation aims to put an end to 'business as usual' and in particular it addresses problems relating to the regulation of first operators bringing timber into the EU market. The regulation applies to timber or timber products that will be 'placed in the market' – supply, use or distribution - in the EU internal market in the course of a commercial activity, whether in return for payment or free of charge.
The UK, through DEFRA, has started consultation processes with interested stakeholders to ensure that their views and concerns are considered and expressed in meetings in Brussels. In March 2012, the delegated Act will enter into force followed by the implemented rules on June 2012. So, it will take almost 2 years for this legislation to come into force and for businesses to be ready for that transition.
Why this regulation is vital for changing businesses behaviour?
After the approval of the EU legislation in October 2010, businesses now have no choice but to ensure their operations are not breaking the law and therefore risk prosecution. Other doors are closing for illegal loggers: the USA amended the Lacey Act in June 2008, and Australia has now introduced timber legislation. It's sad that it's required binding legislation to make sure that businesses behave appropriately.
The EU legislation will cover all 27 EU member states - they have the responsibility to apply the legislation at national level. Progressio is working with the relevant competent authorities in the UK (DEFRA) and Ireland (Ministry of Agriculture) to ensure that the implementing regulation for this legislation is applied as robustly as possible.
It's important that the definitions and interpretations of important elements within the implementing regulation – i.e. what is meant by first operators, penalties and sanctions - are clear to reduce loopholes and avoid watering down the legislation. The other challenge is the cooperation of the different ministries in implementing this regulation.
New initiatives - such as the Forest Law Enforcement Governance and Trade (FLEGT) through the Voluntary Partnership Agreements (VPAs) - are being encouraged by the EU in order to support developing nations to make more efficient their internal forests systems. The FLEGT-VPA also strives to provide support in the improvement of national governance systems.
So far, five timber-producing countries have signed such agreements with the EU: Cameroon, Central Africa Republic, Ghana, Indonesia, Liberia and Republic of Congo (Brazzaville). Four others have started negotiations: The Democratic Republic of Congo, Gabon, Malaysia and Vietnam. Several countries have expressed an interest and so pre-negotiations discussion started taking place in Central and South America – Bolivia, Colombia, Ecuador, Guatemala, Guyana, Honduras and Peru; Africa – Cote d'Ivoire, Sierra Leone; Asia-Pacific – Cambodia, Myamar-Burma, Papua New Guinea, Solomon Islands and Thailand. The advantage is that, under the new EU legislation, any wood coming from country signatory of FLEGT-VPA will be considered to be sustainable and legally sourced timber.
How can we, as consumers, contribute to help with the preservation of forests all over the world?
In the UK and other parts of Europe, consumers have played an important role in putting pressure and causing the timber business sector to change their practices, helping to bring transparency and accountability into the timber businesses. Consumers will continue to play an important role if they make informed choices in their purchases, asking questions to business whether the timber used for their products is legally sourced, and/or requesting some sort of sustainable certification scheme.
Why is Progressio involved in the Big Forest Picnic?
Progressio intends to celebrate the beauty and importance of the Forests for the UK public whilst raising awareness of the importance of forests to poor and marginalised communities.
Our intention is to show you (the UK public) that forests are also relevant to those communities and that for us - as consumers in the developed nations – we can support those communities and the survival of their forests.
Progressio would also like to share with you how those communities regard their forests with stories, legends, and testimonies. These stories will also show some examples of where forest devastation has had a detrimental impact on communities and countries like Haiti and where communities have joined forces to fight against deforestation like in El Salvador.
---
Photo: Rosa del Carmen Chávez in the Balsam Forest of San Julian, El Salvador. The marks on the bark are from Balsam extraction. The Balsam is managed responsibly so that the whole community can benefit in a sustainable way. Photo © Maggie von Vogt/Progressio