Volunteer overseas with Progressio ICS
Progressio is offering 18-25 year olds a life changing opportunity to volunteer overseas with International Citizen Service (ICS)
What is ICS?
It's a fantastic opportunity to volunteer overseas, gain new skills, meet amazing people and use your experiences to inspire a new generation of global citizens!
What's more it's government funded, so although we ask volunteers to fundraise it is open to all and no one will be excluded on cost.
Find out more
Follow the links on the left hand menu for more info.
What would I be doing?
You will volunteer in a team of UK and local volunteers, alongside a local partner organisation adding value to their ongoing work on community, education, livelihoods or environmental projects in El Salvador, Honduras, Malawi, Nicaragua or Zimbabwe.
If you are aged 23+ with the ability to lead a diverse group of young adults, you can apply to be a group leader.

Follow us on twitter
For great pictures and news from the Global South:
Read all about it!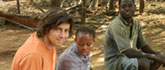 Read our volunteer blog and find out what it's really like!
Get news from Progressio
Don't worry we won't pass on your details