Steven Msamala is an Administrator for Lakas Products, a long distance haulage company in Zimbabwe. Like any good employer, Lakas Products knows that taking care of its workforce is a top priority to guarantee a good service and high levels of productivity. So, when the company's Workplace Health and Wellness programme became unaffordable, Steven grew increasingly concerned.   
"Our company transports various goods to construction sites, some of which are in remote areas of the country. This means drivers spend long periods of time on the road," explains Steven. 
HIV and AIDS are having a devastating impact on the transport industry's workforce in Zimbabwe and rates of HIV prevalence in the country are now the third highest in the Southern African region with over 1 million adults living with HIV. For truckers, a life of being constantly on the move, missing out on normal family life and relationships, and stopovers in places with little distraction often leads to men being at a very high risk of contracting HIV and other sexually transmitted infections.  
The HIV epidemic has targeted the most productive age group (15-49) with detrimental impacts on company productivity and performance losses. Direct costs for companies and employees, along with the high levels of stigma and discrimination amongst employers, prevents workers from disclosing their status. 
Despite the risks, many truck drivers continue to engage in unsafe sexual encounters. Others, already living with HIV, can often struggle to access and adhere to antiretroviral therapy because of being constantly on the move. 
Taking responsibility for staff wellbeing
It is now a legal requirement in Zimbabwe that employers not only have a workplace policy on HIV, but also offer awareness raising and prevention activities to their staff. Even so, as a result of serious economic problems in Zimbabwe, these vital initiatives are becoming harder for small and medium sized companies to afford and implement.
"Lakas Products has always played a role in safeguarding the health of all employees. We used to invite an external health service provider to the company and conduct health assessments on our employees. This boosted employee morale and contributed to high productivity," explains Steven. 
"But, the situation gradually changed as the economic climate deteriorated after the turn of the millennium. As the company's profits started dwindling, the Workplace Wellness service providers' fees were on the high side for us. Workers began to express their dismay at the phasing out of wellness programmes."
Partnerships for positive living
 Luckily, the Zimbabwe AIDS Prevention and Support Organisation (ZAPSO) were able to help. Progressio development worker Walter Tapfumaneyi had been supporting the organisation to establish links with the Ministry of Small and Medium Enterprises and the Zimbabwe Chamber for Informal Economies Association (ZCIEA) so that ZAPSO could support companies to fulfil their legal requirements with regard to the national HIV policy. When Steven received a phone call from ZAPSO offering a workplace wellness programme entitled 'Hear our voice: Speaking out for HIV services, care and support in Zimbabwe', he says his face "lit up".
"Finally, the company was in a position to offer the much-needed wellness programming for employees. I did not hesitate to accept the offer," says Steven.
"The awareness session covered important topics such as HIV transmission and prevention, HIV testing and counselling, sexually transmitted infections, general wellness, male circumcision, HIV-related stigma and discrimination, and living positively with HIV. 
"ZAPSO went on to provide voluntary counselling and testing and train some of our staff members as HIV and AIDS peer educators. The enthusiasm shown by employees made me realise that they had longed for HIV and AIDS activities as much as I had."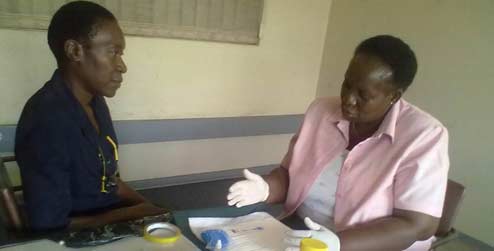 Turning points
As Steven explains, the programme is very much appreciated by employers and employees alike and for some people it has been live changing. 
"Everyone was delighted, from top management to the shop floor workers. One employee came to me after one of the sessions and thanked me for the session saying: 'Mr Msamala, thank you very much for this programme.  As you are aware, we are vulnerable to HIV transmission due the nature of our work. We need this type of information to help us better our behaviour in regard to HIV and AIDS'.
"One of employees who tested positive for HIV during VCT described it as the turning point of his life. The test result revealed that the recurrent episodes of ill health could have their roots in HIV infection. As a company we supported him to undergo various relevant tests resulting in him being initiated on comprehensive antiretroviral therapy at a local hospital.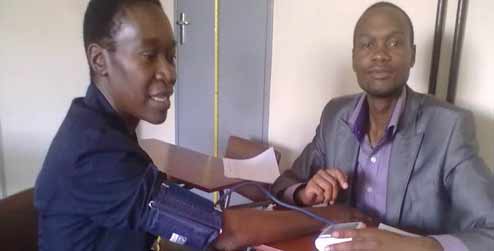 "Within weeks, he had gained weight and the throat infection and fatigue had ceased completely. Had it not been for the workplace HIV testing and counselling, this man's health would have continued to deteriorate. HIV and AIDS awareness sessions open participants' eyes so that they are in a position to run a personal risk profile. The employee continues to be productive."  
---
Top: Progressio Development Worker Teclah Ponde (left) speaks with truck drivers in Zimbabwe (©Marcus Perkins/Progressio)
The programme was funded by UK-based donor Comic Relief in partnership with Progressio.