Welcome to Part II of 'Team Mtende makes a film.' Here, we will get a glimpse behind the scenes at Mzuzu studios. 
As part of our HIV awareness raising campaign, we decided to compose a short film about the importance of HIV testing. Of course, most of us had very little idea of how to make a film. Some of us, myself included, had absolutely no idea whatsoever. We placed our faith in Dan and his knowledge of Film and TV production, and in Kisha with her knowledge of performing arts. 
The rest of us just sort of winged it. 
The Plot
The actual story was dreamed up by the team over a few afternoons, then written in just over a week by myself and Dan. It goes a little like this…
Five friends are talking about sex: Vicky, a confident and sexually active young lady who has been known to kiss and tell, Matthew and Memory, the twins who are given to nervousness and apprehension, especially where needles are concerned, Catherine, the geeky scientist-in-training and Akim, a God-fearing man. 
Akim openly condemns Vicky's extravagant sex life, stating that she will be punished for her promiscuity with HIV. Catherine then says that, actually, HIV is not a divine punishment but a virus that attacks the immune system and that anyone, not just the ungodly, can get it. She goes on to say that Vicky should get tested anyway as having unprotected sex with multiple partners massively increases your chance of contracting the virus. In the end they all agree to go with her and get a test themselves.
On the day of the test, a terrified Vicky undergoes pre-test counselling, testing, and then (after a suitably suspenseful pause) receives a negative result. She returns to her waiting friends with a tear in her eye and a smile on her face. A few moments pass before someone notices that Akim has not yet come out of the Doctors study. 
Inside, a distraught Akim has, unexpectedly, received a positive result. 'How can this be? I'm a God-fearing man!' he says. (Remember, the point of this is to turn the prevailing stigma, that HIV is reserved for those who do evil, on its head) 
The film ends with a happy and successful Akim, who has since left the unfaithful partner who gave him the virus, returning six years later to thank the doctor who convinced him that the world wasn't over, and that being HIV positive is not a reason to give up on life. 
So, we had something resembling a plot. Now we were faced with the task of acting it out. 
Lights, Camera, Action!
We turned up at MACRO on the Thursday with script and camera in tow. 
We all had our roles. Kisha would be playing Vicky (the promiscuous one), Andreia would be playing Catherine (the clever one), Memory and Johnson would be playing the twins (the nervous ones) and Abraham would be playing Akim (the God-fearing one). Tusha would be playing the role of secretary, and Lumbani would be playing the role of Doctor Kajiso PhD. Jessie would play the unfaithful wife. The production crew (that being Dan and myself) handled the filming, costumes, scripting and directing.
We wasted no time and set about creating a masterpiece.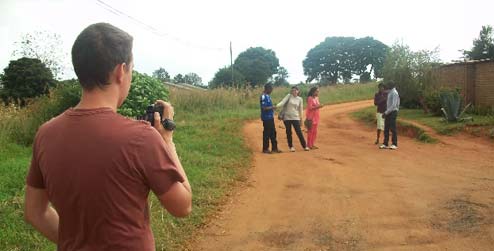 Dan-the-camera-man gets ready to shoot the first scene
The first scene had our protagonists approaching the clinic after unanimously agreeing to go. (We would film the actual first scene at the hostel later in the day.) Then we had our protagonists enter the building via the main entrance.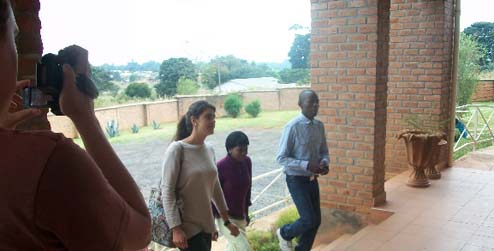 Dan films as the characters enter the clinic. From left to right: Mathew, Vicky, Catherine, Memory, Akim.
Upon entering the clinic they were met by our secretary, Tusha Mafera, who directed them to the waiting area.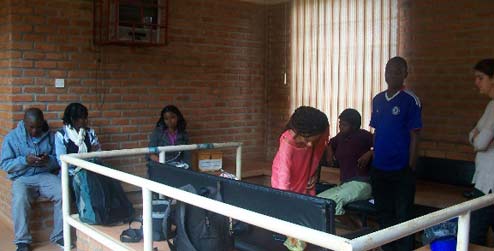 Actors preparing for the next shoot
Here we prepared for the main event; the HIV test. We kitted our Doctor (Lumbani) with rubber gloves and a study in which to conduct the test (kindly set aside for us by MACRO).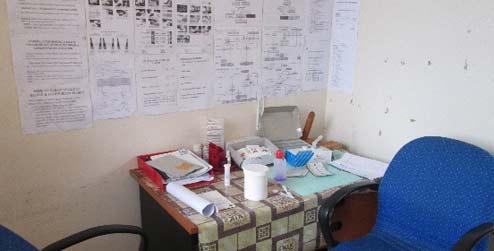 The doctor's study in which the magic would happen.
The next sequence was the one on which we really wanted to focus; the process of testing. It was here where we could showcase exactly what it was like to get tested; it was here where we could calm the doubt, fear and apprehension in the minds of those we were trying to reach. Doctor Kajiso put his best friendly-face on and conducted the test (not really, he's not even slightly qualified).
Vicky (or Kisha) received her negative result to tears of joy; we even brought an onion for some serious tear-duct action.
When this was done, Akim had to receive his positive result. It was here where we tackled the issue of living life with HIV. 
The doctor gently takes a weeping Akim through the steps he will have to take now that he is officially HIV positive. Always use a condom, take your ARV's, get a balanced diet. And, most importantly of all: Don't give up.
Six years later (or 5 minutes if you look at it another way), Akim returns to thank the doctor who helped him through the darkest time of his life. We see him leave the clinic happy, successful, and healthy.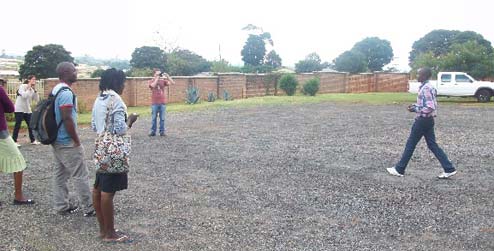 Don't Give Up
Sadly, many people who receive a positive HIV result will not take it so well. They might crumble in the face of the overbearing discrimination and marginalisation they will receive. They might not be able to take it when their friends and family turn their backs on them. They might not be able to cope with the idea of their immune system slowly giving up on them over what years they have left. 
To the people of Malawi, Akim's defiance in the unforgiving face of the virus represents something more. The idea that a person can live happily with HIV (and with the help of organisations like MACRO, they absolutely can) should be a source of hope and inspiration for those that can relate to him and his HIV status. 
Hopefully our film will, as well as help to protect those who are HIV negative, help reduce the many HIV related suicides this country sees. While none of us are A-list actors or directors, and we're not likely to make a splash at the box-office, I like to think that if our film stops one person killing themselves over HIV, or better yet stops one person contracting the virus at all, then we've made pretty much the best film in the world.
Written by ICS volunteer Tom Inglehearn.