Arriving in Nyanga to our home for the next 9 weeks was very exciting. Nyanga is a beautiful place surrounded by mountains covered in crisp white clouds and bright orange roads. The setting was quite different from the city feel of Mutare but once again the people were ever so welcoming and excited to get to know you and what type of work you'll be doing. It felt really nice to arrive into our community and participate in the local church processions, interact with the children and engage with the women in the community and those who will be helping to facilitate our projects.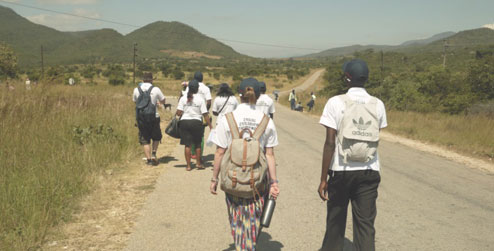 This week was predominately planning and really trying to get a complete timetable together for the next 7 weeks. We decided on the target groups that we wanted to cover and the type of sessions we shall be running. 
Firstly we decided that one of our target groups would be young mothers. This decision came about from a conversation with our national group leader explaining that from the previous cycle they found that when visiting the communities there were a high number of young girls with children who had not completed school and were struggling financially due to a lack of income generating activities. From talking with the ICS National Volunteers we found that a lot of these women do not have a support network so the first thing we wanted to do was form a support group so that they can make new friends and help each other with the challenges they may face on a daily basis. We then talked about what we wanted to cover in the sessions and we came up with ideas such as 'tackling stigma in gender equality and solidarity', 'child rights', 'women's rights', 'children's health and nutrition' and 'mothers/maternal health'. We plan to go into the communities next week to mobilise these groups and find out whether there is anything else they would like to know about.
The second group we decided we wanted to target was out-of-school youths. In Zimbabwe the unemployment rate is 90% for people aged 18-35.  Our hope is that sessions on income-generating activities, project management skills, careers advice and CV writing will be beneficial to help find employment.
Another project we were made aware of which could be implemented by our programme is SILC. SILC stands for Savings and Internal Lending Communities and is based on the idea of a 'village bank' made up of a group of 10-15 people who all contribute a small amount of money, for example $2 USD to create a pool of money.  From that pool individuals can then borrow money to buy something that they may not be able to buy alone, for example a chicken to then sell for a profit. The profit is then put back into the pool of money and the amount continues to grow. This creates a sustainable flow of cash for the community with each individual in the SILC group working together to increase the community pot. 
Written by ICS volunteer Esther Denton