On the 14 May I was fortunate enough to assist in the reunification of Lloyd B. Lloyd had previously been on the streets before, as his family couldn't afford to pay school fees, but after being identified as a vulnerable child he was eligible for the BEAM programme. BEAM (The Basic Education Assistance Module) was setup by the government and UNICEF to help orphans and vulnerable children to attend school. Unfortunately, due to the economic climate recently BEAM has not always been coming to school in time for the start of term, if at all leading to Lloyd being sent away for not having school fees and ending up on the street.
Lloyd's mother died a year ago when he was 10 and his father is nowhere to be found. He stayed with his grandma for while then moved to several other households, before ending up on the street again. With the help of another local charity, American Corners, we at Simukai set out to reunify Lloyd with his grandma in Penhalonga.
When we arrived at his grandma's house his grandma gave us a quick breakdown as to what had happened with Lloyd and that he had run off to stay with another household in Penalonga and his older sisters before we believe he went to the streets. His grandma told us that he would have been lead to the streets by his older brother Godfrey who spends a lot of time living and working on the streets – in the past there have been reports of Godfrey bringing Lloyd to the streets and chasing him back home as Godfrey didn't want Lloyd on the streets, we tried reunifying both Lloyd and Godfrey but Godfrey was unwilling to return home. Upon trying to reunify Lloyd with his grandma he became very upset and went off and told one of the girls from American Corners that he didn't want to stay with her. His grandma suggested that we go down the way and talk to his older sister and some family friends. We went deeper into the rural areas of Penhalonga and came to where his sister was staying. After a lengthy discussion with his sister and family friends the outcome was that his sister was happy for Lloyd to stay with her and she could afford his upkeep of food and water but unfortunately was unable to afford his schooling, as she was only 21 with two children of her own. None of his family friends were able to help with the expense of sending Lloyd to school, his school fees are $26 dollars a term with three terms a year with them being farmers and almost self-sufficient his food wasn't a worry but with them having to afford to send their own children to school they could not afford Lloyd as well.
After reunifying Lloyd with a blood relative we set out to his school to find out what was going on with his BEAM and to gather any more information. After talking to the Headmaster at length we discovered more about Lloyd's situation and the problems the school were facing regarding BEAM. It was here that American Corners announced that they had raised enough money to send Lloyd to school for the term and were trying to raise enough money to be able to send him to school for the rest of his life. The head teacher also announced that they had boarding quarters, which if worst came to worse, Lloyd might be able to stay in, although due to new legislation the fees of boarding had risen substantially.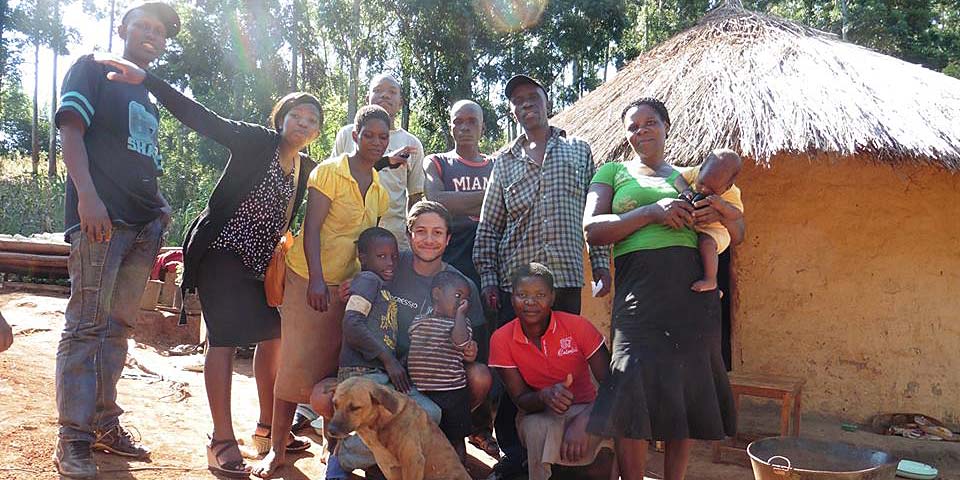 Happy to be reunified with his sister and excited to be going back to school Lloyd kindly asked if he could have 5Rand so that he could get his haircut which I gave him. He ran off and came back with a fresh new do and a smile on his face.
This reunification was an amazing process, with tears from many, and I am touched that I was invited along on the experience. I wish Lloyd all the best and hope he finds the funding for him to stay in school.
Written by ICS volunteer Tomas Mountain