It's been brilliant to share experiences with the UK volunteers in the community.  The first day after their arrival in Santa Marta, we went together on a tour of the community of the most important places and the work sites of the previous cycles. 
At the beginning of the week, our work began…
- Monday, we had a meeting on our roles and how to have an excellent cycle. 
- Tuesday, we went to meet our partner organisation ADES (Asociación de Desarrollo Económico Social Santa Marta) and during the afternoon we went to our other work site in San Felipe.
- And during the rest of the week, the volunteers were in charge of obtaining the materials for the bio-construction, for example rocks, clay, grass, bottles, bamboo…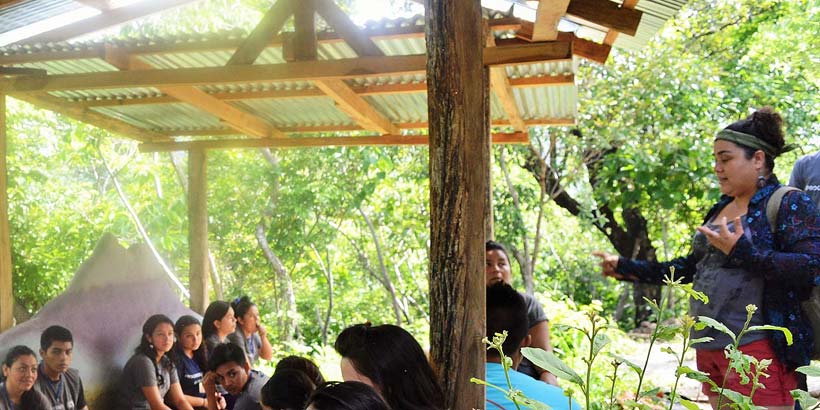 And it's in this way that the volunteering adventure of bio construction starts!
Written by ICS volunteer Carlos Eduardo Cerritos
Translated by Gagan Aggarwal
La aventura comenzó
Ha sido muy lindo poder compartir con los y las jóvenes británicos en la comunidad. El día después de su llegada a Santa Marta juntos y juntas, hicimos un tour por la comunidad por los lugares más importantes y los sitios de trabajo de los ciclos anteriores. 
Al comenzar la semana, iniciamos nuestras labores:
- El lunes nos reunimos para plantearnos metas como roles y poder ser un ciclo excelente. 
- El martes nos trasladamos a conocer la contra parte del proyecto de ADES  (Asociación de Desarrollo Económico Social Santa Marta) y por la tarde fuimos a San Felipe nuestro otro lugar de trabajo.
- Y el resto de la semana, las y los voluntarios nos encargamos de recolectar materiales para la bio-construcción, como por ejemplo: piedra, barro, zacate, botella, bambú…
Y es de esa manera que la aventura del voluntariado para el trabajo de bio-construcción comenzó!
Escrito por el voluntario de ICS Carlos Eduardo Cerritos