For my action at home, I organised an event which I called volunteering day. The aim of the event was to raise awareness among young people and the community on the importance of taking part in different volunteer activities.
To make the day more achievable I worked with a youth group in my area: Chiradzulu Hospital Youth Friendly Services Youth Group. I joined with this group because they already had a large number of young people that were attending their group meetings. The youth group helped me to campaign and raise awareness for the day. As part of the event, I set up a day where we helped cleaned the local hospital in my area (Chiradzulu hospital).  During the day we cleaned inside and outside the hospital.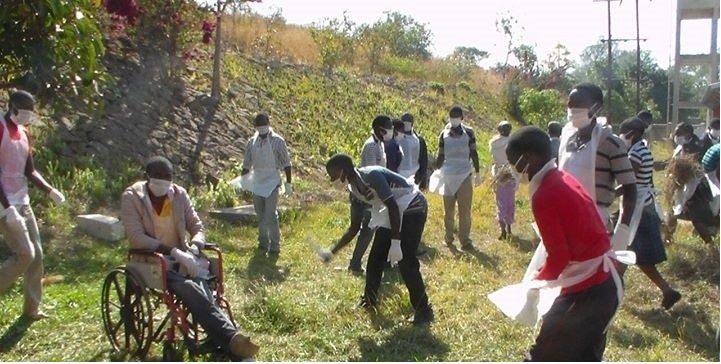 The day was very successful because we had lots of young people from the community, some of the community members, as well as the hospital staff joining us. After we finished cleaning, I gathered all of the community, volunteers and staff, and I talked about the importance of volunteering, and shared with them my experiences of ICS. Now the group are organising their own volunteering activities.  
 
I chose this action at home because most of the young people in my area do not have much knowledge about volunteering.  I thought it was a good idea to come up with this event so that the young people can change and challenge themselves to take part in volunteering.
 
When I was in Chikwawa, Southern Malawi, volunteering on an HIV and AIDs awareness project with the ICS partner organisation, Cowlha; I thought it was important that I do something similar in my community. My time volunteering with ICS made me realize that with my actions and knowledge, I can change my community for the better.
 
LIFE AFTER ICS
 
Since I completed my ICS placement, I have enrolled with the Holy Family College of Nursing and Midwifery. I am currently studying a three-year diploma as a Nursing and Midwifery Technician.