There are so many aspects to a placement that people are nervous about as it draws nearer to the departure date. I hope this gives you one less thing to worry about before going on your placement. There's the first part, which is about a vegan diet, the second part is about a vegetarian diet and the third part is about a gluten-free diet.
Part 1 - Vegan diet
What you eat when you travel to a foreign country can often be very tricky. It is also important to watch what you eat in case you get sick and at the ICS pre-departure training, we were advised not to eat anything that would be washed in tap water. Considering that 70 per cent of my diet at home is fruit and vegetables, I was slightly nervous about eating in Malawi. Being vegan, I pay close attention to what I eat and I initially thought my diet would become even more 'restricted'. Additionally, meat is more expensive and I worried about offending my host family by turning down what is considered more valuable food.
In my experience however, I have had almost no issues with what I can eat. Although, most Malawians are absolutely gob smacked that I could possibly not want to eat meat… or eggs… or anything which comes from an animal. My host family are more than accommodating to my dietary requirements. In fact, I can more or less eat anything they put on the table, except for the meat. What you are given for meals varies between households, however we usually have bread and peanut butter for breakfast, nsima or rice for lunch and dinner with a side of greens, beans, tomato dressing or Topsoy (soya pieces, which are quite nice). Only once have they simply forgotten and put out eggs to which they were extremely apologetic and embarrassed. 
In Nkhata Bay, there are a few places that I have found have some vegan treats. Head to Aqua Africa for their amazing nachos (just ask for them without the cheese), Kaya Papaya do a delicious veggie burger, and almost any local restaurant will serve chips. And if all else fails, there is an endless supply of sweet locally grown bananas in the market for around 30 kwacha (3p).
Part 2 - Vegetarian diet
I am a vegetarian due to my religion. I was told that a vegetarian diet would be fine over here, but I still wanted to know exactly what I would be eating and all I heard about was nsima. I was worried that meat would be a big part of my host families' diet and that they wouldn't like to cook a separate vegetarian meal for me. But my host family are completely understanding and don't make me feel like I am a burden at all. My host dad says that we are a family and we all eat the same food. I felt more a part of the family from that moment, I felt more at home.
Breakfast consists of a fried egg and chips, the best breakfast I have ever had. Lunch can be a range from leftovers to places to eat near the office (there are some very nice restaurants in Nkhata Bay). Or, you can go home for lunch where I usually have nsima and eggs with green vegetables as it's the easiest and quickest to cook. You'll hear a lot about nsima in Malawi. I thought I'd be eating it every day. But there are a variety of foods I have for tea, like rice with mixed vegetable curry (courtesy of a recipe given to the host family from two other volunteers in a cycle before us). There is also Irish potatoes with soy pieces. Beans is also an accompaniment, which goes well with rice. 
You might also find yourself becoming vegetarian whilst you're here, as two volunteers have tried it out for the past couple weeks, which shows just how simple it really is to eat a vegetarian diet out here. There is one thing for sure, your host family will never let you go hungry.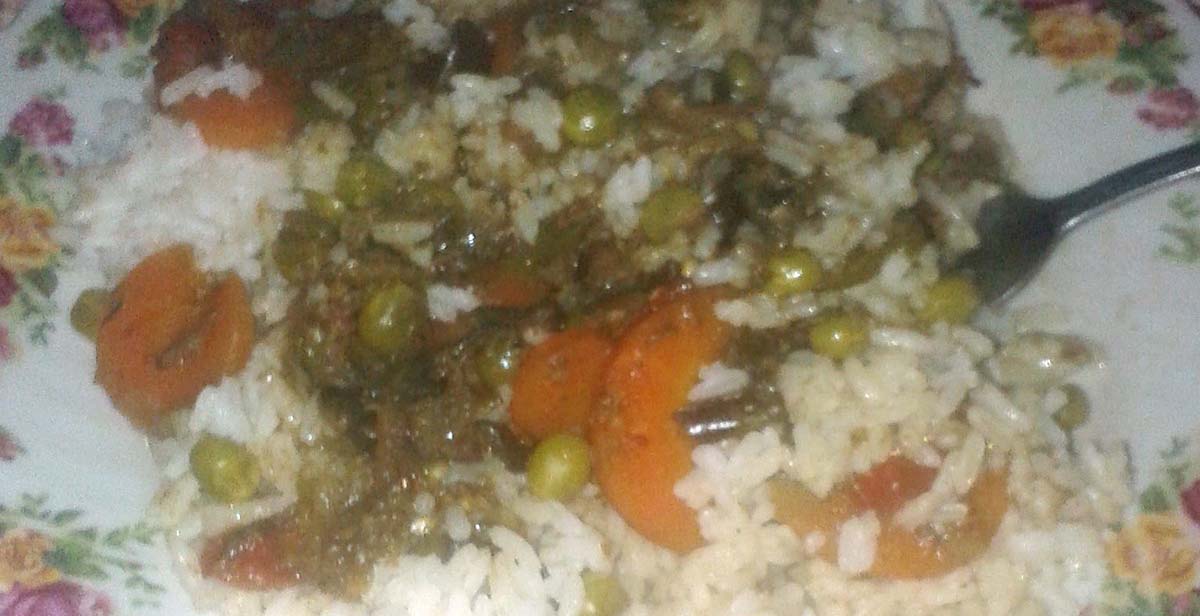 Part 3 - Gluten-Free diet
Being a coeliac on a strict gluten-free diet, I was nervous about what I'd be able to eat while I'm away. The good news is that much of the food out here is naturally gluten-free. 
Stable carbs here include rice, potatoes and nsima (maize flour mixed with water), which are all naturally gluten-free. Servings often included with this is vegetables, meat, soy pieces, fish and beans. There is plenty of variety in the diet. 
I explained on my first night at the host home about my diet. They were very accepting and accommodating but I would advise it is helpful to list to them what you can and can't eat. You might need to say this again, as on my first morning we found a loaf of bread on the table for breakfast. However, when I explained to them I couldn't eat it they were more than happy to cook me a breakfast of scrambled egg and chips. 
When eating out for lunch, if you ask someone whether something is gluten-free all you will receive is a blank stare, so my best advice would be to use your judgement on what you know is safe or you can ask your host family to prepare a packed lunch from last night's leftovers. In Nkhata Bay there are some restaurants owned by expats (Kaya Papaya, Aqua Africa) who are used to tourists with allergies and will be able to accommodate you (Aqua Africa even offered to order in some gluten-free pasta).
I'll round off with a couple of tips for while you're out here:
1. Keep an eye on ingredients as some unexpected things can contain gluten. For example, powdered milk for tea.
2. Bring a packed lunch (maybe even two) and plenty of snacks for the flight. The airline's idea of a filling gluten-free lunch is a small tub of fruit, vegetables and a small chunk of laughing cow to last a journey of nearly 24 hours.
The airport stop-over is not great for finding gluten-free food so don't rely on this!
Hopefully this has prepared you for what you might find here. It's really not as difficult to eat here as we all originally thought. One last tip: bring plenty of food from the UK if you want some home comforts, you can never have too many snacks!
Written by ICS volunteers Simran Nota, Katie Burns and Lauren Fox