Mealtimes, breakfast, lunch and dinner are daily rituals we partake in 365 days a year, that's 1,095 meals per year! Not only do these meals function to nourish us, physically giving us the energy we need to complete our daily tasks, but they serve as social occasions of great significance.  Who we eat with and what we eat are the two most significant factors when it comes to mealtimes...
So, having decided to embark on the ICS journey with a bunch of strangers half way round the world to El Salvador, a country with a culture so different to the UK in so many ways, one of the main things we have noticed is how different the food is. With this in mind, we decided to make a food diary of a typical day here in Arcatao, El Salvador. 
Our group of 17 UK volunteers eat at a canteen in the town for all three of our meals, seven days a week for the 11 weeks we are here. The ladies, Dora and Rosa, who make and serve our food are lovely and friendly and super duper smiley. We start the day with breakfast, (desayuno in Spanish) at 7am. The most common breakfast we have is fried plantain with frijoles (refried black beans), served with various sides depending on the day such as eggs or tomato salsa - today we had a tamalito de elote, a starchy fresh corncake. You can also have toast and cornflakes. Both plantain and frijoles are staples of our diet here with mixed reviews. I am personally a big fan. The plantain when fried caramelises on the outside, forming a sticky sweet jam like substance inside. If the combination of savoury and sweet is your thing, I cannot recommend either more highly! Every morning there is a large jug of coffee and hot cinnamon milk on offer- super delicious!
Our schedule dictates that we are on the bio-construction site for the community kiosk from 8am to 12pm, Monday to Saturday, and from 1.30 to 4pm on Mondays and Tuesdays (more details to follow in our upcoming Spanish language blog). We have a 15-minute break from 10.15 to 10.30, in which we usually eat some kind of fruit such as papaya, bananas or watermelon, or even frozen bananas covered in milk chocolate like today, such a treat!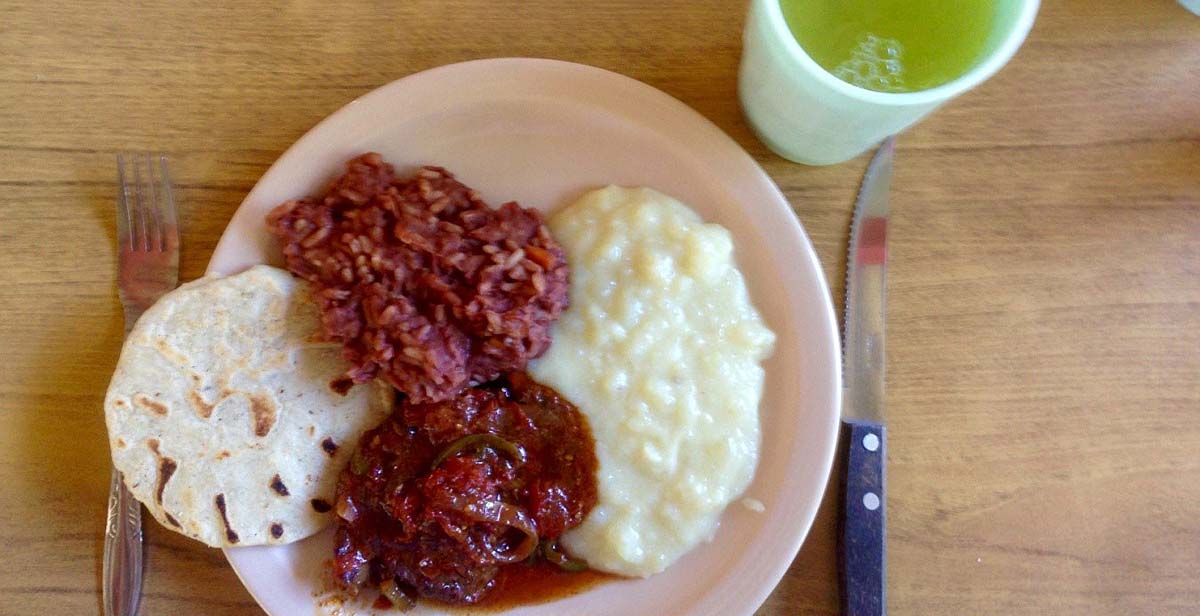 Lunch - tortilla, casamiento, mashed potato, beef in gravy and a tortilla
By the time lunchtime (almuerzo) rolls around at 12, all the volunteers, national and UK are pretty hungry. Today we were served mashed potato, casamiento (beans and rice), tortillas and beef in a delicious tomato and pepper gravy. Every day with both lunch and dinner we are served fresh juice, today it was fresh pineapple juice, "muy fresco", as the locals would say!
For dinner (cena) we dined on possibly my favourite meal yet, pupusas, the national dish of El Salvador. These are tortillas stuffed with cheese and frijoles, griddled. Think of it as Salvadoran cheesey beans on toast! It's great. We ate them the traditional way, with curtido, a Salvadoran cabbage and carrot salad, similar to sauerkraut or coleslaw, along with salsa roja, a cool tomato sauce.
Dinner - pupusas, curtido and salsa roja
You may have noticed a pattern in the meals today, frijoles (beans)! They feature in most of our meals in various forms, either whole or blended and serve as a great source of protein. Along with maize and plantain, beans, are a staple part of the Salvadoran diet. Staple foods can be regarded as repetitive and boring, but here they are reliable crops which sustain the Salvadoran people and for just a couple of months us too! We are very lucky and fortunate to be eating such delicious food on a daily basis and sharing in this part of the Salvadoran culture.
Written by ICS volunteer Isabel Campbell