Progressio development worker Innocent Bidong Ogaba explains how his project with partner organisation Environment Africa has led to real improvements in farmers' livelihoods (photo shows Innocent, right, with Mr Laston, chairman of the Nemoja group which produces Moringa powder)
What was the problem?
I was working in Salima, one of the most drought-prone areas in Malawi with very low levels of irrigation. Food insecurity and high poverty levels are a big issue. The survey we carried out at the start of the project showed that about 60% of the population live below the poverty line. 25% of the population eat only one meal a day. These people go to bed on an empty stomach and are the most vulnerable.
What was the solution?
We organised training for 354 farmers – over 200 of them were women. The projects we set up are now bringing real improvements for these people and communities. And field staff of Environment Africa (the partner organisation) can now themselves conduct training sessions and provide advice to farmers on things like sustainable farming techniques, developing new products and businesses, and marketing and selling their produce.
Growing more sorghum
We trained 137 farmers in sustainable sorghum production. Sorghum production has increased from 3.8 tonnes in the first season to 28 tonnes in the last season – that's a 637% increase in production level! Farmers were planting and growing more – but also getting a higher yield, nearly twice as much per hectare.
Two farmers holding sorghum seeds
Being sustainable means reducing reliance on commercial seeds. Limited access to seeds was a problem, so Progressio arranged for 900 kgs of seeds to be distributed to 450 farmers. We then trained 168 farmers on community based seed selection, post-harvest handling, storage and multiplication. Each farmer who received 2kgs of seeds was required to return double that after the harvest, which is then pass on to the next beneficiary.
Baking sorghum cakes
The Kasonda bakery group was set up to enable the farmers to 'add value' to their produce. The initiative was a partnership with the Malawi Industrial Research and Technology Development Centre which donated two fuel efficient mobile bakery units, that use less firewood than traditional ovens.
One of the fuel efficient bakery ovens
We realised the group was not making the best use of the equipment, mainly due to lack of skills in business management. So we provided training for 30 people on basic business planning and management, including things like organisational governance, leadership skills, group dynamics, and record keeping. After the training, the group increased their weekly income from 2000 Malawian kwacha to 8000 kwacha per week.
Making moringa powder
This project in Chikwawa aimed to improve livelihoods by processing and commercialising products from the three oil seed trees found abundantly in the area, one of which is moringa. We trained the Nemoja group on using the equipment – solar driers, hammer mills, threshers and packaging material. I facilitated the quality assurance, packaging and marketing opportunity aspects. I also started the process of getting certification for the moringa powder from the Malawi Bureau of Standards.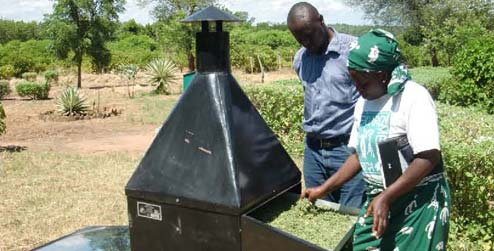 A solar drier for moringa leaves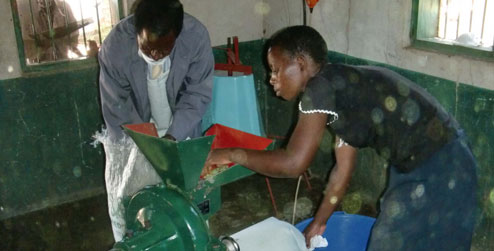 Milling the dried moringa leaves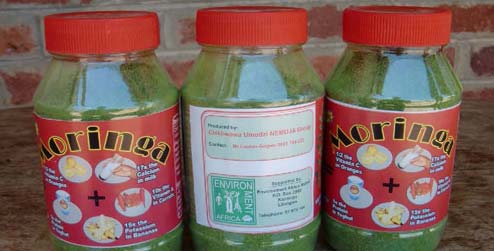 The finished product: jars of moringa powder
Selling in local markets
We developed four nutrition 'gardens' and trained 120 people on sustainable production of assorted varieties of local and exotic vegetables and herbal plants to improve nutrition and increase income. We carried out market research which showed that cauliflower, mushrooms, ginger, lettuce, green beans, celery, spinach, and local vegetables like bonongwe, are the main crops required by local hotels but not readily available in local markets. It also showed that a lot of opportunities exist for winter production of assorted vegetables when the supply is low.
Making honey
Our work with the Chikondi Beekeepers' Association has led to improved yields, significant improvements in the quality of the honey produced, and better marketing. The members are now also in a position to make purified wax candles from the crude wax which they used to throw away.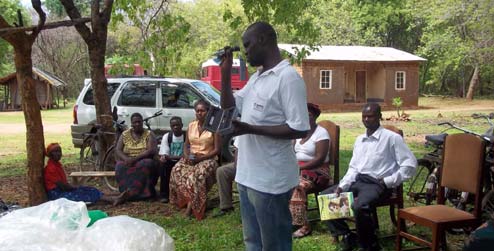 Demonstrating how to use the Honey Refractometer to check honey quality
Chimsoro MacDonald, chairman of the association, had this to say:
"Before Progressio and Environmental Action came to support us, we had a lot of empty bee hives because we lacked skills in proper hives management. We also used to throw away the waste after extracting honey and sold our honey at low prices in re-used empty water bottles. Now as I speak our hive colonisation rate has greatly improved – up by 50% – and we expect to harvest about 150kg of high quality honey.
"We have never achieved this volume before. Our price has also improved due to improved quality and nice packaging and labels. We can also now process our own wax and use it for making candles.
"This support is already changing our livelihoods in terms of increased income."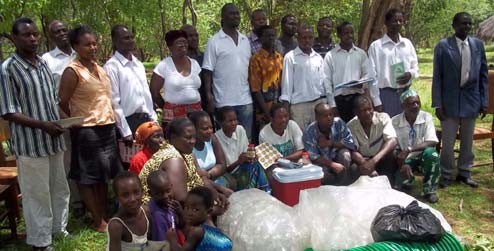 Members of the beekeepers' association with some of their donated equipment
---
Innocent worked as a sustainable development adviser with partner organisation Environment Africa for three years, finishing in July 2011. Progressio development worker Mercy Chimpokosera has been continuing his work since August 2011 and finishes her placement in December 2011.
Help us do more work like this - a regular gift will help empower more people to improve their lives