"Does anybody know what HIV stands for?" is the first question raised in front of 130 high school students.  After a short moment hands are raised and a young girl at the front of the room answers "Human Immunodeficiency Virus" correctly, followed by a warm clap from the rest of the crowd.
Planning had been in full swing since Monday for Basilwizi's first big event at Binga high school; a presentation on HIV/AIDS followed by a friendly football match between the students and volunteers.  After several trips between the school and Ministry of Education seeking the correct permission, posters were handed out encouraging people to come along.
Expectations were hard to establish for our first event however a full room of eager participants during our presentation supported what we were hoping to achieve.
Each of the eight volunteers, both national and international, spoke in turn on HIV subjects such as transmission, effects, protection and treatment.  Interaction was encouraged with questions and at no point did we witness blank, unimpressed faces. 
Once an hour past and with confident satisfaction that all of our intended information had been addressed; we accompanied the students out on to the football pitch.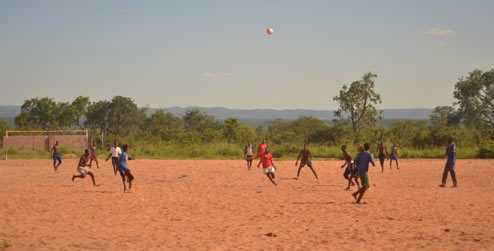 It was great to see there were more girls than anticipated who wanted to join in the friendly match. UK volunteer Rosanna put her coaching skills to good use and formed three teams of seven, carrying out several games and training between them.
There were enough boys for two large teams and they played on the large football pitch next to the girls. 
The level of competitiveness between the girls was high, but this did not disrupt the team atmosphere and it remained light-hearted throughout.  Loud cheers could be heard occasionally from the boys' team as they scored a goal, running around the pitch, arms extended with wide grins on their faces.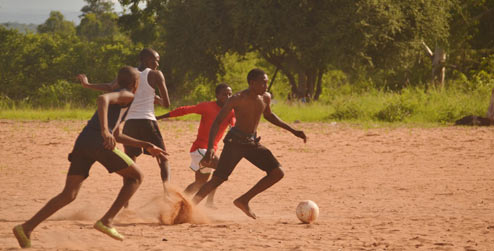 After a win of 5-3 to the Basilwizi volunteers, we quickly handed out our feedback forms before people started to disperse.  We received 23 completed forms which stated that 74% of those surveyed strongly agreed that the presentation increased their knowledge of HIV/AIDS, whilst the rest agreed.  It was also evident from the feedback and general comments that most would like to attend a similar event again, both for the information and entertainment purposes.
It was certainly a good turnout of people and albeit a rather hot Saturday afternoon for playing football, the continuous laughter and positive participation makes this a very successful first event for the Basilwizi volunteers, that we can all be proud of.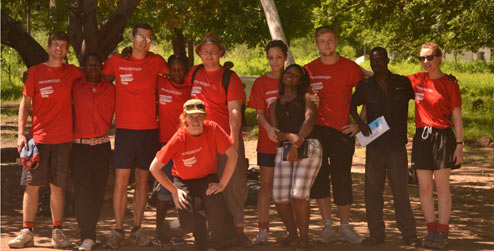 ---
Kelly Diggle blogs from Zimbabwe

Photo 1: Zimbabwean volunteer Katrine presenting to Binga High school students
Photo 2 & 3: Football!
Photo 4: The Basilwizi and Ntengwe volunteer groups. L-R: Peter, Fact, Simon, Karine, Aaron, Rosanna, Linda, Michael, Skinny and Caitlin. Front: Kelly