I am Erick Antonio Garcia, from a town called Dipilto, in Nueva Segovia, Nicaragua.
For me, it is a great honour working with international volunteers from Progressio. I am learning a lot about their different culture and, of course, we are also sharing our own. The most important thing is that we are getting involved in many different social projects with several organisations and everything is going really well. I am really interested in the environment, so I am glad we are having the chance to work on topics such as recycling. I am feeling really excited because we are helping Mother Nature. (Erik leads a workshop in the photo below).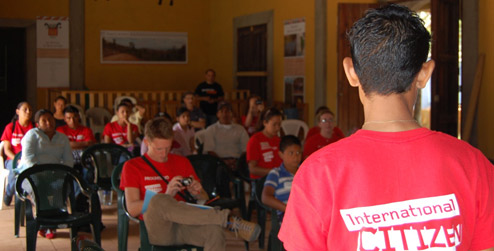 Both, international and national volunteers are working really well together, and we have discovered that if we want to do something big, we can do it better working all together. (Progressio ICS in-country volunteer, Hazell can be seen in the photo below educating local community members on health). During these two months we have worked in different places such as Dipilto, Mozonte and Totogalpa. In Dipilto we have taken part in a radio programme, delivered IT lessons, cookery lessons and taken care of children. We are learning so much from this experience. I personally enjoy the conversations with the international volunteers in which we discuss the differences between our cultures. I also love the feeling of happiness one gets from helping other people.
For these reasons, I would like to thank Progressio for choosing me for this position. Thank you for sending volunteers to our beautiful Nicaragua, so that they can help us and enjoy this lovely country at the same time. Since we love poetry in Nicaragua, I would like to say good bye with one poem I have written in my spare time. Hope you enjoy it. Regards. Erick.
La muerte
Un día triste donde reina 
Mi soledad de mi interior
Reyna el silencio donde se apodera la oscuridad.
Donde me atrajo la perversa muerte 
Quise morir  por un amor 
Que me llenaba de una sentida pésame.
Yo que te amaba tu que no me amabas
Quise morir volar sobre las estrellas moradas 
Donde reina el universo.
Mire la muerte sé que eres tú 
La desgracia de mi alma 
No es tanto mirarte si no sentirte 
Perversa fuente que me dejabas sin respiración.
Déjame vivir exclamé déjame vivir 
Que aún quiero ver el sol
El señor de lo alto me rescató 
 De las manos del monstruo de lo oscuro 
Y dar en mí una nueva vida.
Translation: 
Death
A sad day where
The loneliness of my inside rules
There is silence and where obscurity rules
Where did perverse death attracted me
I wanted to die for love
Fulfilling me with a felt condolence 
Me, who loved you and you did not love me
I wanted to die flying over the shining stars
Where the universe rules
I saw death and I know it is you
The shame of my soul
Is not so much seeing you but feeling you
Perverse fountain that left me breathless
I shouted let me live, let me live
I still want to see the sun
The lord from above rescued me
From the hands of the darkness, monster
And give me a new life
---
Progressio ICS Nicaragua in-country volunteer Erick García blogs on his experience of being an ICS volunteer. 
Translation of blog and photos by Progressio ICS volunteer Carlos Velázquez.
Translation of poem by Progressio ICS staff (London).