Arriving in Binga has been so different to what I felt the media has made Africa out to be.
In Binga the people are so friendly, everyone is so happy to meet and greet us in both Tonga and English.
Meeting the national volunteers
During orientation week we first met the national volunteers, which was daunting at first as we didn't know if the language barrier would cause any miscommunications. But we found the nationals to be so welcoming, greeting us with Mwapona Biyeni, meaning 'how're you?'.  
At first the national volunteers struggled with our UK accents, due to how fast some of us spoke, but once we slowed down and pronounced our words more clearly there weren't as many struggles.
We were paired off with one international volunteer to a national volunteer to learn about the ChiTonga culture and the Tonga language of the Binga people. At first learning the language was difficult, as it was so new to every one of us, but eventually once we realised the Tonga language is phonetic, it became so much easier to read and understand. 
We did team building exercises such as tug of war, this was one of the most enjoyable things in the week, as everyone came together and laughed so much. It was used to show not to let one another down, if one team member lets go then we all lose, as long as we stick together and work together the hard times will become easier. The team building exercises showed us that if we take the burden together we can support each other, and we can get back up after we have been down.
All 28 volunteers, 14 national, 14 international worked together to get a better understanding of the two partner organisations we would be volunteering with. I will be volunteering alongside the organisation Basilwizi, whose motto is 'the last shall be the first'.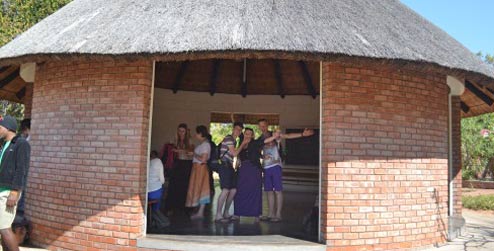 Visiting the Museum
We also visited the museum containing elements of the Binga culture. Here we learnt that the Binga people have witch doctors and spiritualists who work in communities healing and ridding people of evil within them. This was so interesting to find out and we hope to meet a witch doctor (I'nganga). The museum also contained historical facts such as the people of Binga once lived by the river fishing (Basilwizi means people of the great river), and how they used to live in huts built above the ground to protect themselves from floods and animals.

Our house and celebration
Our house is beautiful and has the most incredible view, despite the spiders being everywhere. But already so many people have said 'this is the best decision I ever made'. Already we have made friends with people that we would have never met before and everyone is so confident and outgoing. Each person plays a part in making our house a home.

We held a celebration with the national volunteers in the first week. We danced all night, the nationals dancing was superior to ourselves, therefore we did what every English person would do, dance like a goon and take way too many photos of people that are blurred. This gathering brought us together even more to become a team, and it was so much fun. Inviting everyone around was one of the best ideas we have had, as not only did it bring us closer together, but we spoke as friends all night and learnt so much more about one another. We also realised we are not so different from one another.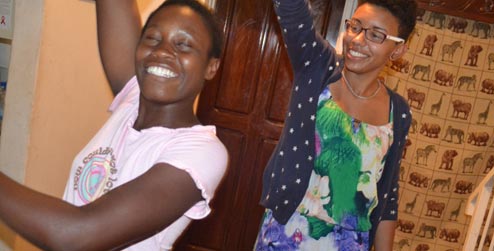 Week one has held so many triumphs for many of us on a personal level. I understand the language and the culture and I felt I have made friends that I would have never met before, both from England and from Zimbabwe.
'We are one, there is no more us and them, we are free' applies to the first week because we became one, we have worked together to create teams, aiming to work alongside other organisations and schools to further the development of Binga and develop alongside the Binga community. There needs to be no more national or international as we are all volunteers with one goal, to help.
We are one - Tulibamwi
Twalumba (Thank you) – Lauren Richardson