(Above: Students From Donga Primary School Help Plant Seedlings)
Placement within week 3 has held so many different experiences; including a health quiz, hospital clean up, career guidance workshops, tree planting and a sports day. On reflection, this week has made everyone within the Basilwizi group realise how much we can achieve, as well as how many different themes we can work with.
First on the agenda for week 3 was a tree planting activity with the Donga primary school. On arrival the school looked very hospitable; newly developing, with only two classrooms and huts for shade. The school children gave us such a warm welcoming, speaking English, which they had recently begun learning.
There were over 60 children all between the ages of 4-7. The children had such enthusiasm at the idea that we were bringing trees to plant around the school. Some will eventually provide shade once fully grown, and others were planted in the area reserved for a fruit orchard to supply fruit for the school children.Before this activity began we gave a speech, teaching about the importance of trees; providing fruit and the production of oxygen.
The children were placed in small groups with a national and international volunteer so we could reduce the language barrier. The children were encouraged to help dig and plant the seedlings, before watering them generously. The enthusiasm from the children created such a brilliant atmosphere that every volunteer left smiling.
Volunteers had brought gifts for the school such as pens and textbooks as the school was in short supply of these.Donga primary school had opened to provide a school closer to the rural villages in the Binga district, as before this many young children walked alone for miles in order to receive schooling. The teachers and the children were by far some of the most polite individuals we have met and even the parents took part, fetching water to help. This project enabled us to feel connected to a wider community, especially the children, in a truly beneficial way.
(Above: Size of Classroom in Donga)
In the afternoon, after Donga primary school we went to Manjolo High School to do a careers workshop. We split into two teams; one worked with the A level students providing information on university, careers and advice on A levels. The A level students were very responsive and thankful for the information as some students were ill-informed about how to apply for university.
The students were very polite and asked many questions to the volunteers about both universities within Zimbabwe but also what Universities are like within the UK. The other group worked with O level students (GCSE) informing the students about different careers and what kind of O levels as well as A levels are provided, and what may be needed for certain careers. This workshop helped people to pinpoint careers and consider the requirements for achieving. This includes choosing between Arts, Sciences and Commercial subjects. For the UK volunteers this was interesting, as we learnt about the differences and similarities between the education systems in the UK and Zimbabwe, with close focus on the options available in Binga. We learn more and more about the culture with every day that passes.
(Above: A-Level presentation at Manjolo High School)
Within the same week we also attended a clean-up project in the local hospital with Ntengwe. We arrived at 9, with the task of organising the medical supplies housed in a large storeroom. We placed many boxes on the grass and began sorting them. This was a unique experience for everyone, giving us an insight into how the hospital functioned.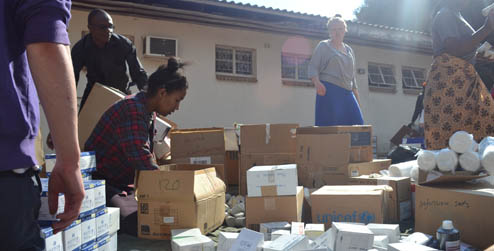 (Above: Volunteers at a Hospital Clean Up Campaign)
After the hospital clean-up we headed to Binga primary school.This was very obviously different from Donga, as this school was vastly more developed with concrete buildings, running water and a herb garden. We worked with the year groups 5, 6 and 7 on the field at the school. We aimed for health awareness through an active quiz.
First we opened with ice breakers, such as a fun game the nationals had introduced to us called Go and Buy Omo and the very British Simon Says. The children were very responsive, enjoying the games nearly as much as the volunteers did. We then brought the children together to do the health quiz; there were 13 questions with true or false answers around the issues of HIV+AIDS, malaria and adolescence. If they thought a question was true they had to run to one tree, if false they had to run to another.
We found this to be one of the most successful ways to engage the children in a quiz as it meant they could be active and more mobilised, therefore more likely to listen and take part than traditional methods. The children were very well informed, although a few questions split them. At the end of the question after they decided on a tree to run to, we assembled them together and explained if they were correct or incorrect so to be clear and dispel any myths.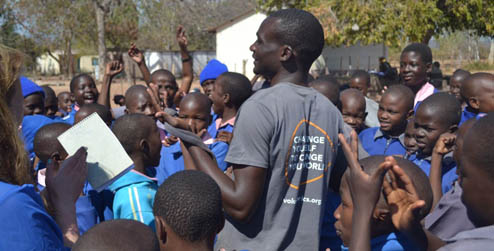 (Above: Toonse, Lauren and Luzibo Give the Students a Health Quiz) 
When we returned to Binga primary school we had prepared an activity day in which we split into four groups; soccer, netball, volleyball and an obstacle course in the playground.The children were allowed to choose which activity they partook in. The children were so excited to play the sports and to take part in the obstacle course. All the volunteers thoroughly enjoyed their time in playing and working with the children, as the children are so polite and willing to take part; people are so friendly in Binga. The activity day was used to break gender stereotypes and allow any gender to take part in any activity, to work with them all together as equals, and also to promote physical education.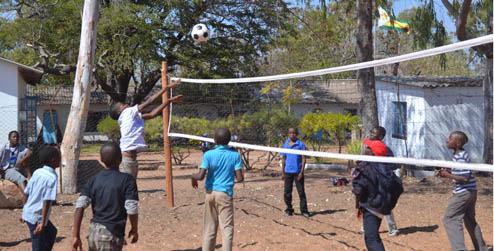 (Above: Children Playing Volleyball)
We have noticed that the children are intrigued by the presence of our visual media team, especially by their cameras and so have been allowing them to take photos of their own. We show them how to hold the camera very still, aim and focus before taking the shot. This has been a rewarding experience, allowing us to interact and connect with the youth in an effective way. Some of the children's shots have been so impressive we have decided to include them on our blog, in order to give an alternative look at our activities. We also hope that through this we will be able to create stronger relationships with the community if we are able to show them the blog.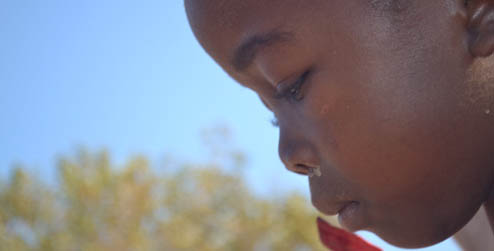 (Above: Photo of Promise, taken by Mary from Donga Primary School)
This week has been amazing, we have been so active and it's made the volunteers such a strong unit, enabling us to become even better friends. Everyone is willing to talk to you and there is always a new friend waiting around the corner. It really makes you appreciate what you have, but also makes you realise what we could also have. There's a new experience always waiting for us here, and it is so exciting that every day will be different.
Thank you very much. (Twalumba Loko)
---
Written by Lauren Richardson