Thoko is 16, this year both his parents died and his house collapsed, leaving him and his three younger siblings orphaned and homeless. When Progressio volunteers from the last Mdeka placement heard about Thoko and his family they donated and raised money to build a new house for the children.  Upon our arrival at the house we found that building work had stopped and the house remained unfinished. After speaking with the builder we volunteered our help to ensure the children would have somewhere to live as soon as possible. This week the floors have been laid by Progressio volunteers and local builders. This involves breaking up bricks with hammers in order to lay a foundation. Volunteers and local people from the area walked to and from the river to collect water and sand for cement for the three room house.
During the time of the building the family continued to live primarily in the outhouse next to their new house, which was deemed unacceptable for a prolonged period of time. During this time we had liaised with the Lighthouse foundation regarding maize donations for the family that had not been implemented. Volunteers offered their own money and provided the family with food on several occasions, we are now thinking of business ideas to give to Thoko to make sure he can provide for his brothers and sisters when Progressio volunteers leave Malawi.
Volunteers have also donated clothes and shoes to the children as they had only the clothes on their backs that were dirty and torn. The children were presented with new clothes, towels and soaps to wash with.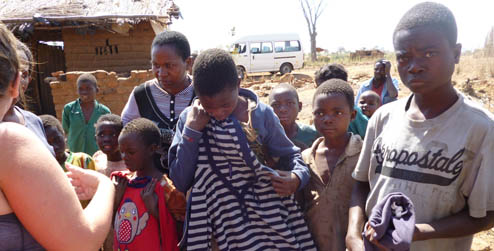 ---
Written by Aoife Grace Moore