My name is Kenia Belinda Meza and I live in San Nicolás, Intibuca.
It all started suddenly when I and my team were invited, for the first time, to participate in a women's football tournament in the community of Belén. We did very well and we won the tournament.
I did not know anyone in Jóvenes Liderando Cambios (JLC), a local organisation, but a group of young British volunteers in the community grabbed my attention. I was curious to ask and find out more about JLC, but did not have enough time at that moment, and I did not dare to approach the organisation.
When the awards ceremony came they called for the captain of San Nicolás team to be presented with the trophy. As I was the captain, I went to receive the trophy and I said a few words on behalf of my team and myself. I thanked JLC for the opportunity they had given us to participate in the tournament and I mentioned that I hoped it would not be the last time we would be involved with the organisation.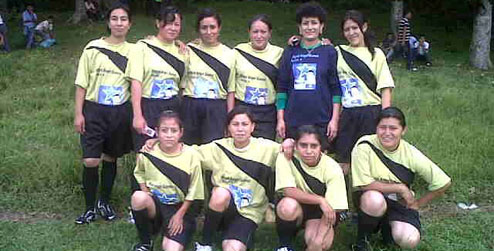 It happened to be a day of heavy rain on the football field in San Nicolás. To my surprise I saw David, Guillemo and Rony, who are from JLC and were at the tournament in Belén. I was surprised to see them and they told me the reason for the visit, they wanted me to work alongside JLC.
I told them I needed to think and would call them once I had decided. I had some doubts because I knew little about the work of the organisation and that it involved working and living with people with different cultures and lifestyles, including people who spoke a different language and had different social norms. I wondered if I could do it and how.
In the end, I made the decision to volunteer with JLC, thanking God, David, Guillemo and Rony for the opportunity to take part in Progressio ICS.
Initially, I realised how hard it was for me not being able to speak English and for the British volunteers not being able to speak Spanish. However, despite the language barrier, our team of national and UK volunteers were able to develop a work plan for our 10 week cycle and implement our activities.
Personally, I was happy to live and share with a fairly large group of volunteers. They felt like part of my family and we learned from each other big and small things that meant a lot to me. The workshops we used to deliver every Tuesday with the youth of the different communities in the area had great importance for me. I was able to share my knowledge with the other ICS volunteers and they were pleased with the work we were doing as a team.
As for the football training, Rony and I split the workload with one of us in charge in each community. In total, we worked with 13 young women in Manazapa, 16 in Belén, 14 in Los Encinos and 20 in Chiligatoro. Aside from football skills, our training always covered issues such as gender equality and self-esteem, social values which are often missing today but I feel must be put into practice every day.
I think that despite some difficulties, our activities were a success. The four communities were pleased with the training and got involved in all the activities with a positive attitude, always eager to keep learning everyday. My workouts with the young women were intensive but that was the point.
I can say that what I admired about my fellow British team members was the fact that they always seemed willing to do anything that the project required them to do. And that is what is needed, effort and dedication to develop our team's activities.
I enjoyed encouraging the young women of the different communities to keep going, to participate in their communities, continue with their studies, and to understand and take advantage of the opportunities available to them.
I know that football is a part of our recreation and is also a fun way to develop bonds of friendship with other people in the community. However, it is also important to spend time on other things, so that we remain productive in our daily lives, like continuing studying, to make something of our lives and appreciate the opportunities that come to us in our communities.
It is important to believe that if we can trust our own abilities and help others without expecting anything in return, this will help us to be better people every day, both in and outside our communities.
It is rewarding to see each community always participating in all the activities and with a clear determination to learn, come rain, come shine. I was very grateful when the young women told me they liked the training sessions. This gave me great satisfaction to believe that I was doing things to the best of my abilities and that as a group we were working very well.
This feedback motivated us to continue to develop the activities in each community with great interest, while recognising where we came from, where we were and where we were going as a team of national and UK volunteers. We all worked towards the same direction, to achieve our team goals, as set out at the beginning of the 10 week cycle, and to be pleased with ourselves. While doing the activities we did not feel superior to the other members of the community, we were like everyone else. At the same time, as a national volunteer in a team that included UK volunteers, I was also trying to promote my culture.
Through this experience, I have learnt about the importance of devoting more time to do what we want to do, to love whatever we are doing, work collaboratively and strive to learn. I also learnt to have the courage to be active and move forward with our lives, while having a clear vision and goals we want to achieve. It is important to always remember that however difficult the task, it can be done, whatever task seems impossible, we can try, and no matter how difficult one's problems are, we can always find a solution.
Written by Progressio ICS national volunteer Kenia Meza.