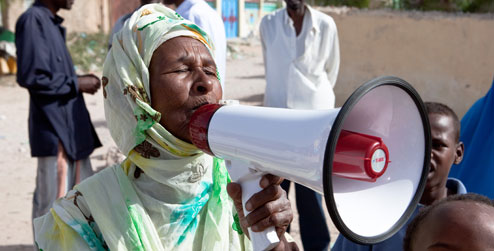 Progressio has always understood that the world won't see an end to poverty through overseas aid alone. To achieve permanent, sustainable solutions to poverty, we must also tackle the structural barriers which keep people poor.
If poor communities don't have a meaningful say in the decisions taken at international, national or local government level, the problems that they face will not be taken seriously. So Progressio works at all of these levels to help the voice of poor and marginalised communities to be heard and acted on.
Policy change at local level
Let's take one example: illegal logging.To tackle the problem effectively, action needs to be taken locally – at the community and national government level – to make sure that forests are well managed and protected from illegal loggers. Our development workers help local people and organisations to do this.
But strong measures also need to be in place at the international level, to deny illegally logged wood an international market. And that's where our international advocacy team come in.
Policy change at international level
Progressio's small team of advocacy staff work together with development workers and partner organisations to understand what poverty means in reality, why people can be trapped in poverty, and whether things could be improved by changing policy or practice at an international level.
We then work to make that change happen. We punch above our weight because our analysis is backed up by our on-the-ground experience. And we are listened to because we bring the voices of the South to the policy table.
Our approach is very cost-effective. A policy change can result in lasting benefits to livelihoods and quality of life for poor and marginalised people. And these benefits may reach more people, and be more long-lasting, than the shorter term impact sought by many overseas aid projects.
Read more about our policy work in the rest of the 'What we do' section - and check out our 'take action' section for the latest on our campaigns, past and present.
What motivates us
Our advocacy is based on the reality of people's needs, and on in-depth analysis of the causes of their problems and the potential solutions. But Progressio was founded on faith and it's still an important part of our identity. So it's natural for us to draw on these roots in our policy and advocacy work – especially where it gives us added influence in seeking policy change.
Throughout the world, churches and other faith communities have an important voice in their own right as part of civil society. They regularly make that voice heard on international development issues – and are taken seriously by politicians.
So we seek to inform the thinking of churches and other faith leaders on development issues, by sharing the views of poor communities, our experience and our analysis with them, including where we see links between the issues faced by poor communities and faith.
Ending poverty requires choices to be made which prioritise the needs of poor and marginalised people above those of the powerful. This is a question of values.
Progressio's values draw on the vision of human dignity, and the critiques of poverty and power, found in Catholic social teaching. We see it as fundamental to bring the concerns of poor and marginalised people to the attention of decision-makers in powerful institutions and governments, explain to them how their decisions will affect real people, and convince them to prioritise the interests of the poorest.