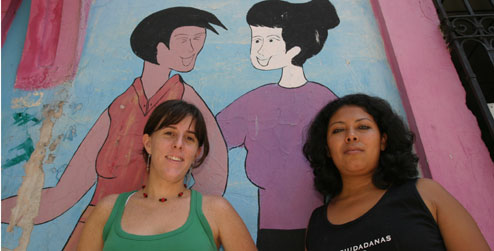 Development worker Monica Calvo Ortiz with a colleague from the women's rights organisation Flor de Piedra in El Salvador
We think it's the way we work – nobody else does it quite like us! We ask groups that authentically represent poor and marginalised people what help they need in order to tackle poverty. Then we provide exactly the right person for that job: a skilled expert who works with them long term on lasting, practical solutions, and on changing the policies and structures that keep people poor.
But it's not just about support - it's also about solidarity. So as well as our development workers, we stand alongside poor people and communities through our  Progressio ICS (International Citizen Service) programme - with young adults from the UK volunteering alongside local young adults and local organisations on projects where their energy and skills can make a direct impact.
We believe it's not just what we do – it's what we bring to it that makes us different.

Our conviction that imposed solutions, however well meaning, are not the answer – people must have the power to address their own problems. That's why we don't simply give money, we work through skilled people – our development workers –working with local organisations to benefit poor and marginalised communities in developing countries.

Our determination to combine practical long term work in poor communities with lobbying for policy change to ensure lasting solutions.

Our commitment to recruiting development workers from developing countries – people with experience and know-how of what works in tackling poverty.

Our belief in every person's inherent dignity and right to justice – and our commitment to working with all people in the shared task of development.

Our independence from the Catholic Church – yet our commitment to influencing and supporting the Catholic community in its responsibility to tackle poverty and help create a just world for all.