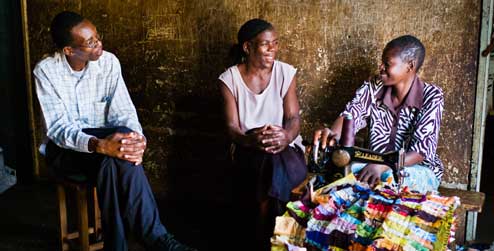 Development worker Stancelous Mverechena (left) talking to two women seamstresses in Zimbabwe (photo © Marcus Perkins/Progressio)
'People powered development' describes what Progressio does: we help people gain power over their lives and overcome the barriers that keep them poor. And it describes the way we do it: we bring people together (our development workers and our young adult volunteers, and the people they work alongside in local organisations and poor communities) to help poor and marginalised communities stand for themselves.
Read more about people powered development in our annual reviews.
We believe poor and marginalised people can shape their own lives and transform their world. Despite the many barriers that keep them in poverty, 'poor people' are often rich culturally and socially, and have the resilience and resourcefulness to be the authors of their own development. That's people power.

Our role is to support them. That's why we build long-term relationships with local organisations and community groups in developing countries, through around 100 development workers sharing skills and know-how, and through young adult volunteers working with local organisations on projects where their energy and skills can make a direct impact.
Working together in this way we help thousands of people in poor communities transform their lives. That's people powered development.

But we also know that poverty is about power. People are impoverished because of their lack of choices, opportunities, or influence: their lack of power.

So we work with groups of people who are poor and marginalised to change the structures that keep them in poverty. We empower them with advocacy and campaigning skills so that they can stand up for their rights. And we support their calls for policy change by demanding that decision-makers around the world sit up and listen to them.

Poor people empowered to transform their lives: that's people powered development.