Unsurprisingly, one of our main topics of conversation at dinner time with our host family is food, what we like, what we don't like and what types of food are typical to our countries. After one particularly in depth conversation about our favourite foods at home, our mum said jokingly... "So when are you going to cook for us?!" 
She immediately began to laugh, but to her surprise, we replied "How about Saturday evening?" She seemed a little ambivalent to let us loose in her kitchen, but agreed to let us have a go cooking for the family on her traditional Honduran 'chiminea'! 
After browsing the supermarket in La Esperanza, we decided to make macaroni cheese, with rocky road for pudding. As we arrived back from La Esperanza ready with our ingredients, we were met with apprehensive but excited faces, and cameras poised to document what was sure to be a disaster. We started by making the rocky road. Everyone smiled in delight as we produced biscuits, marshmallows and chocolate and got to work, using our host family's pots, pans and utensils. After we had melted the chocolate, crushed the biscuits, and mixed in the marshmallows, all whilst being photographed, we put the finished product in the fridge to set. It's fair to say Seona and I definitely got an insight into what it must be like to be on the set of Masterchef! 
Our mum was surprised when we started to pour a whole packet of milk into a saucepan to make the cheese sauce. She exclaimed "I thought that was for the pudding!" Apparently in Honduras it isn't common to use milk in savoury cooking. When we were happy with our mac and cheese and ready to serve up, everyone gathered in the kitchen, ready for their dinner, which couldn't be eaten until more photos were taken! 
Word had quickly spread around the family that the British volunteers were cooking dinner, and before we knew it, there were nine people waiting to try our cooking, as opposed to the four we had expected! It was lucky we massively overestimated the amount of ingredients we would need! 
We waited anxiously as our host family took the first bite of pasta... They looked unconvinced as they said "nos gusta" (we like it) but they cleared their plates nevertheless. (It's the thought that counts right?!) There was, however, no doubt about their reaction to the pudding! The next few minutes were filled with phrases such as "Muy Rico" "quiero más" "delicioso"!! We demolished the rocky road, even the crumbs, and finished everything of with a cup of Yorkshire tea (which is now a must in our house!). It just goes to show that chocolate, marshmallows and biscuits are universal treats!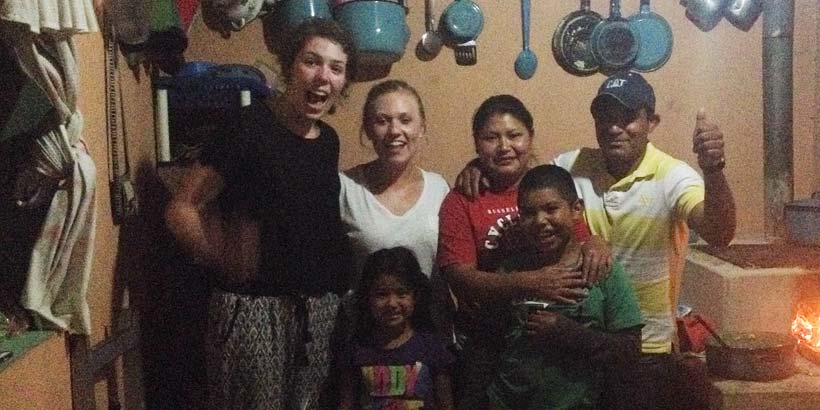 Cooking for our family has definitely been a highlight of our time in Honduras. Despite our initial fears about burning down our family's kitchen and embarrassing ourselves, the experience definitely made us closer with our family and allowed us to thank them and give something back, if only in a small way, for looking after us and supporting us throughout our time here. Finally, it gave us the opportunity to show our family a typically British dinner, and no matter how much we love traditional Honduran food, it was nice to finally have a meal without tortillas!
Written by ICS volunteers Charlotte Dixie and Seona Brannan