Honduras
Alberto Granados, a farmer in Olancho, Honduras. Photo © Omar Banegas/Progressio
We help people grow their way out of poverty through equitable and sustainable management of natural resources in relation to climate change.
Working with our partners we are:
• contributing to the diversification of crops and the reduction of carbon emissions though environment-friendly techniques;
• helping poor families to increase their income through the produce and sale of high-value crops;
• building the capacities of local civil society organizations in terms of local and national environmental regulations, including climate change adaptation, to advocate for their implementation;
• supporting the population of Nahuaterique in their advocacy for the recognition of their Municipality so that they can fully exercise their rights as Honduran citizens.
Also our Progressio ICS volunteers in Honduras are working alongside local young people on community, education, livelihoods or environmental projects.
Want to volunteer overseas?
Honduras blog posts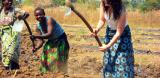 ICS Photography Competition Winners
Progressio
5 February 2014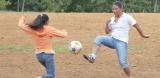 Honduras: Gender and Development
Progressio
30 October 2013