As in many developing countries, Honduras faces the debilitating problem of a high level of gender inequality. Whether formally or informally, the majority of women in society do not enjoy equal rights as men, in both the public and private spheres. This is a very real issue that's holding back the progress of Honduran social and economic development.
In general, Honduras doesn't fare well on human development; in 2012 it ranked 120 out of 185 on the Human Development Index (HDI): a measurement of wellbeing and quality of life for citizens. Stemming from HDI is the Índice de Potenciación de Género -IPG- (Gender Empowerment Index) which measures the level of opportunities for women.  In Honduras this is low at 0.558 (the highest possible is 1), but the department of Intibucá where we are volunteering in communities around La Esperanza has an even lower value, below the national average. Female-lead households are generally much poorer than male-lead ones, due to disproportionate access to resources and social services. This is exemplified by the fact that nationwide women only earn around 45% of men's wages. Women normally have very little power in economic and social spheres, and therefore often do not participate in private and public decision-making, rendering them much more invisible and underrepresented than men across both spheres. 
Escalating violence against women (and violence in general) is also a huge problem across society that is impeding Honduras' progress. Honduras has the highest femicide rate in Central America, which from 2011- 2012 rose by 30%. Whilst many murders are related to domestic violence, others are blamed on institutionalised gender discrimination in all aspects of Honduran society, as the lack of respect for women runs deep. To add to this, less than 1 in 5 reports of femicide are investigated, and a woman is killed every 18 hours within a population of 8 million. Whilst lesser-impact domestic violence is even less reported and investigated and therefore harder to report on, these realities for Honduran women create an atmosphere of fear and regression, rather than inducing the progress the country needs. 
Approaches to development need a gender focus now more than ever, as women are being left behind as national economies grow. Women make an extremely valuable and vital contribution to economic and social output if given the same opportunities as men. Consequently, countries with bad gender inequality can only make a limited amount of developmental progress. Female autonomy has to be strengthened in different areas in order to advance gender equality: women need full economic and political autonomy and rights, freedom from violence, and full and equal citizenship.
To help the work towards gender equality in the communities around La Esperanza, we have been running and developing women's football teams in Los Encinos, Belen and Manazapa, that were set up by JLC.  Before this opportunity, it was not normal for women to play sports or enjoy activities in these communities without the men's involvement, so the teams are a valuable opportunity for women to gain some independence and change the views of the role of women. Importantly, alongside the teams we are running a series of gender equality workshops, which aim to inform both genders of the legal rights of women and expected equalities between the two. The ultimate aim is to train a member of each community to coach the teams so that they are self-sustainable, and the women can continue to enjoy the chance to have their own time to develop their skills and capacities away from male influence. The teams have already made a visible change to attitudes towards women in the communities. Alongside the workshops, the project is on track to helping improve attitudes towards gender equality and the expected role of women in these communities.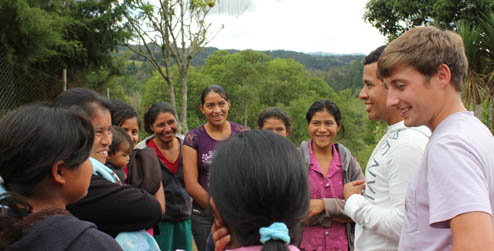 ---