This weekend marked the end of the seventh week of our volunteer placement in Honduras and our mid-term review, an opportunity to reflect on and review our experience so far and look towards the future prospects of our volunteer journey. With the end now in sight, we have been able to review what we have achieved, the impact our presence has had on the people around us, and the work of Progressio in Honduras; to look back over the evolution of ourselves, of our work and our journey in the time since we stepped onto a plane in the snow and ice of England and stepped off another into the sweltering heat of Tegucigalpa, the capital of Honduras.
It is easy to see the physical things which we have helped to create since we have arrived, or which we will complete over the remaining three weeks: an extended farm to provide more food and income for a small local family, a mural in the school with the message of national pride, and a media project aimed to promote the formation of Progressio Latina this year, in the hope that it will inspire potential volunteers and raise awareness of and funding for this programme and the situation in Honduras. But, alongside these, it will be the smaller but no less significant effects of our presence that we will take home with us. We have seen the eruption of confidence in the women we have been working with as they teach us, their empowerment to take control, and the opportunities we have given the children during our teaching sessions at the local school. We have engaged with the young people of the school and the children's home in La Paz and worked with cooperatives to transform farms and, alongside this, ways of life. We did not come to Honduras with the aim of changing the world, but the impact we have had on the individuals we have been working alongside is just as rewarding as any other.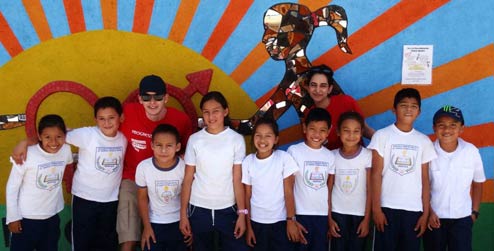 Of course our time in Honduras has comprised many difficulties, giving us just a taste of the unpredictable nature of Honduras: when the dirt road ahead of us became impassable due to floods caused by the heavy rains of May, our would-be trip to Nahauterique had to be postponed. With the rainy season lasting for six months, we were reminded that this is a problem faced by the local people for extended periods of time, turning the 33km journey through progressively bumpier and more winding roads from one lasting two hours to one that is near impossible, leaving Nahauterique inaccessible. Whilst this experience for us may have been a limitation to our work and impact, for these people it is a constant barrier to opportunity.
Seven weeks ago some of the group could never have imagined themselves leading a class of energetic children or creating new beds in a field using only a hoe, especially in 30 degree heat. We have been given the opportunity to be taught new skills, experience new culture and community, get away from the beaten path and away from our comfort zone and, with these, to broaden our future horizons. Our work as volunteers will not end at the end of our time in Honduras: one of the biggest contributors to change and development is awareness, something which we will be working towards when we return to the UK. We hope that not only our work in Honduras will have affected us and the individuals we have been working with, but that our efforts will continue to ripple through Honduras through our action when we return home.
---
Blog written by Emma Justice
Photos by Maddie Dicks