This Saturday we will be celebrating International Women's Day, (which actually falls on the day before, Friday 8th), at the Casa de Cultura in the centre of Marcala. The event, which has been organised by the ICS volunteers in conjunction with one of our partner organisations, the co-operative COOMUPL, will hopefully be an enjoyable family day and celebration, as well as provide local women with the opportunity to sell products, crafts and food to the community.
As part of the day, the volunteers have organised a small fête centred on the idea of a British-Honduran cultural exchange. For this we will be hosting mini-Olympic games "Juegitos Olimpicos" comprising of traditional British school sports day events such as sacks races, and the ever ubiquitous egg and spoon race as well as craft activities for younger children. Whilst we hope that the day will be fun and enjoyable one for all involved, we also hope that it will carry a serious message about the importance of women's rights and raise awareness of the positive contribution local women make to the community of Marcala.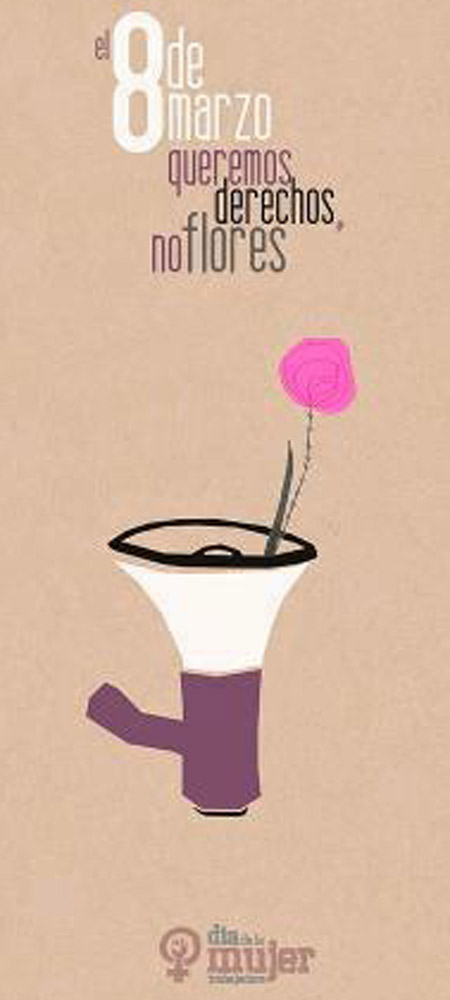 One medium through which awareness about women's rights can be shown is through music. On Friday we were invited to attend an event at a local hotel hosted by coffee growers from Honduras and roasters from the U.S. Whilst there, we were fortunate enough to be entertained by one of Honduras's most famous exports; folksinger Guillermo Anderson who performed on the night and gave the group their first taste of traditional Honduran music.
His performance, and that of his band, was amazing and thoroughly enjoyable - especially the dancing! Prior to each song Anderson gave a brief account of the origins of each piece. One song, Historia de Manuelito stood out in particular. It told the story of a husband, Manuelito, who showed little appreciation for the domestic duties carried out by his wife, claiming that housework should not be considered real work. The song continued by describing, in a particularly tongue-in-cheek style, a day in which Manuelito was forced to stay at home as his wife was visiting a sick relative and how he struggled immensely to keep up with the work carried out by his wife on a daily basis. Anderson expressed his belief that women's work should always be appreciated, regardless of whether it is remunerated or not, or whether it takes place inside or outside of the home. The message was particularly powerful and poignant as it came from such a celebrated and influential male musician.
Unfortunately, not all men in Honduras are as appreciative as Guillermo. Due in part to the "machista" culture that is prevalent in Honduras, many women face abusive and mistreatment in the home. On top of this, they are often limited in their work opportunities and struggle to make a living outside of their home. As such they rely heavily on men for financial support. This can make them even more vulnerable to abuse in the home, as they have little recourse to alter their situation and increase their status within the household. It also means that women who face abuse find it difficult to leave abusive partners as they have no financial means to support themselves. This situation has become particularly apparent to us through our research into the issue of intra-familiar violence. 
For this reason, the COOMUPL co-operative organises training sessions in which women can learn valuable skills such as making goods to sell from recyclable material, natural resources or food items, like baked goods. This week the co-operative hosted two baking sessions run by Flavia, who had previously run the recycling workshop at the office. When we arrived on Monday morning we were greeted by Flavia and ten local women and children and handed a recipe booklet. First on the agenda for the morning was to prepare a delicious "flan de moka" (mocha flan) - the recipe for which can be found below.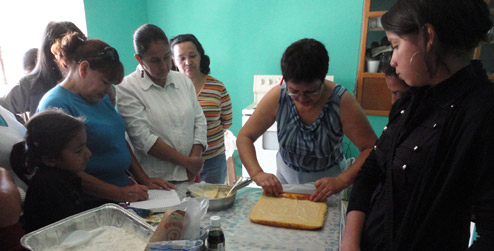 We worked alongside local women and children on Monday and Tuesday and prepared a range of food, including pizza, tiramisu, banana bread and fairy cakes. The baking sessions not only provided valuable knowledge but also gave us the opportunity to get to know the women from the community better. Flavia is an excellent example of an independent, successful woman who has overcome a number of obstacles in her life. At the age of four her father passed away and by fifteen the family was left orphaned, leaving her as the eldest to raise her four younger sisters. Despite these circumstances Flavia gained an education and now works in helping to train women to provide for themselves and generate an income.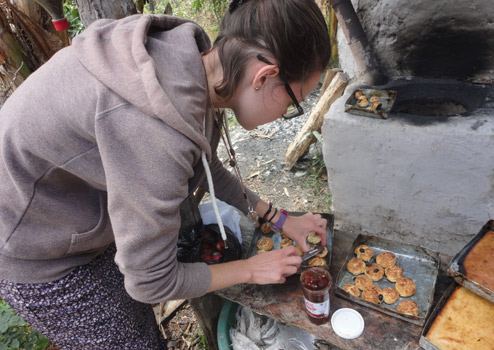 On Wednesday we were given the opportunity to run a baking session ourselves as organised by the president of the other local partner organisation, COMUCAP. The session took place at Lydia's home, a member of COMUCAP. Upon arrival we learnt that Lydia's home was the only suitable venue as she was the only participant who had an oven. The session was a completely different experience to the training we attended at the COOMUPL office; mainly because we were baking al fresco! When we arrived we were given a hot drink made using a special Mayan nut, only typically found on the coast. For the session we decided to introduce traditional British baking and teach the women how to make raisin and jam scones.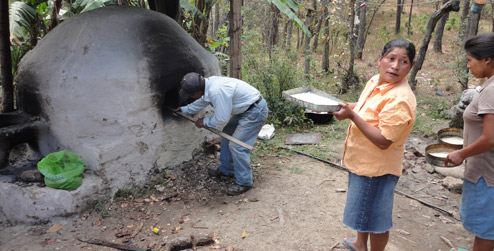 During the baking we discovered that none of the participants had ever eaten raisins and luckily for us, they enjoyed the taste and the scones were a great success! The women also taught us how to make a sweet bread which we ate with tea to end the session. The bakery sessions have given us an invaluable opportunity to meet a variety of women from the community and an insight into their lives. It also brings home to us the importance of the work of the co-operatives in providing these women with vital resources and a support network which can help them counter the numerous obstacles they face in life. On a lighter note, it also gave them, and us, some enjoyable mornings filled with cookery, laughter and delicious food!   
Here is the recipe for the Flan de Moka: 
Serves 6
Ingredients:
¾ of a cup of brown sugar (to make the caramel)
3 small eggs
½ tin of condensed milk
1 tablespoon of cocoa powder
1 teaspoon of instant coffee powder
½ a cup of milk
Preparation: 
 Prepare the caramel by melting the sugar over a medium heat on an aluminum tray- (use the same container throughout otherwise you would lose lots of caramel transferring it).
 Place condensed milk in a blender, add the instant coffee and cocoa powder (or vanilla if you prefer) 
 Add eggs in one by one, mixing in between. 
 Make a bain-marie by placing smaller tray into large tray filled with hot water
 Pour in milk mixture into the tray with the caramel and cover with foil. 
 Place inside oven (in bain-marie) at 230c for an hour or until you can remove a clean knife from the flan. 
 Leave to cool in a fridge until serving.  
Enjoy! 
---
Progressio ICS volunteer Becky Higgins and Sukhi Bath 
Photos taken by Progressio ICS volunteer Joanna Auburn