For International Volunteer Day, on 5 December, our ICS volunteers in Honduras wrote a series of blogs reflecting on their experience and the importance of volunteering. 
Our team of six UK volunteers and seven national volunteers live and work in El Carrizal, Intibuca. El Carrizal is a small rural community with around 600 inhabitants. It is a community which is struggling to develop due to a lack of education, failed harvests, teenage pregnancies and a disillusioned population. With the help of volunteers to change attitudes and provide opportunities within this community, it is hoped the process of development will accelerate over the next few years and improve the standard of living greatly. 
In a country where there are 23,000 people living with HIV, where 12% of the population is illiterate and school life expectancy is only 11 years old, it is clear that action is needed. I believe that this action needs to work at tackling problems from their roots and a clear way of doing this is by deploying volunteers who are engaged and committed to their work. 
My ideas of why volunteers are important since being in Honduras have developed from what I knew before coming and now after six weeks in El Carrizal. I have three firm reasons why volunteers are vital to the sustainable development of Honduras. 
For me, the most important reason for having volunteers is the opportunity they create to inspire a population to change their future. Although directed at the whole population, the focus is usually directed at inspiring the young population. This is especially important in countries like Honduras where young people between 0 and 24 make up 55% of the population. Also with the high crime rates, lack of unemployment and unfortunately frequently unmotivated attitudes which exist within the Honduran youth, which we hear of almost daily, we know that a fundamental part of our placement is to demonstrate to our partner national volunteers and as many young people as possible, a different way to look at life.
The unemployment rate in Honduras between people of 15-24 years is 8%. Females are at the higher rate of 13.8% and males at 5.5%. We need to provide equal opportunities for young people in order to avoid the risk that they will become disillusioned and end up falling into either the illegal employment which is far too common in Honduras or simply live without employment. International volunteers can share skills that Hondurans may not ever have had the opportunity to gain and also they can provide important different perspectives of life. These skills and perspectives can be of great advantage to the young population in terms of employment and values they should follow. 
In our case, we are working hard to share ideas and skills with the national volunteers. The key to this was by firstly building a good relationship with our nationals. From the start, we worked on this through daily energisers and language exchange activities and also the trips, which all the volunteers attended.
Handing over responsibilities over the last few weeks has been a key part of encouraging the nationals to learn and develop important skills. For example, they have been in charge of making agendas for the week, taking the lead in planning workshops and planning Spanish lessons. Through this, we have seen improvements every week as their confidence grows and they learn new methods and skills. 
Furthermore, as I have the responsibility of the language role, I have tried hard to teach as much English as possible to the nationals. Each week we have lessons and the nationals have tasks and homework to do each day. Not only will learning English benefit them in the fact that they can communicate in an important international language, which over 2 billion people use every day to communicate, but also I hope that it promotes to them the importance of education and some different methods of learning. 
As well as inspiring people, the importance of volunteering lies in the creation of sustainable strategies. This is possible with volunteers as they can invest time and care into these sustainable solutions, which usually take longer to carry out than the quick easy solutions that Honduras needs to steer away from. These solutions are often short-term and only have immediate impacts, but it is likely that the roots of the problem will still be there and so the problem will return in the near future.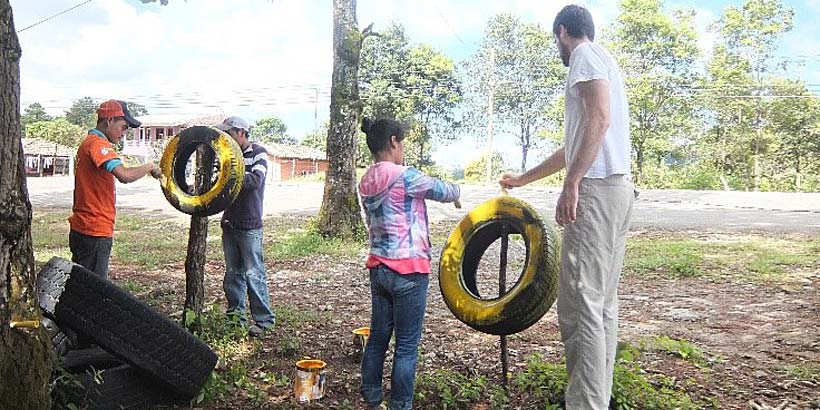 With our project we are working to implant sustainable solutions, which will work from the roots of the problem. For example, we have started to tackle the problem of constant littering by educating the population. We created signs and hung them in key areas around the community, which we hope will encourage recycling rather than throwing litter on the street. Also we ran a recycling workshop in the school with the aim of instilling a culture of recycling within the children. As well as this, our main project is a sustainable project to create a café, which will provide long term employment for local people and a sustainable income for the community. Both these projects have identified the problem and used a sustainable solution to solve them with the hope that the problems will not return. Without the man power of volunteers, these types of projects would be difficult to carry out, as charities would not be able to afford the labour costs. 
Finally, another important reason for volunteers is to promote a volunteer culture within these small communities. El Carrizal is a classic example of a community which needs all of its residents to work together to change things for the better. There is never enough money to invest everywhere and small rural communities are often bypassed, however with a strong volunteer culture producing motivated teams within communities, change is likely to happen. With a willing workforce, funds being campaigned for and people working together, projects will get completed and sustainable solutions will be imparted on the community. 
As well as these three reasons it is key to mention that volunteering is important for the volunteers themselves. In my case and I'm sure many of the other volunteers too, I have developed my self-confidence, presentation skills, become more open minded and learned about a completely different culture. 
Our team have worked for two different organisations. Progressio, an international development charity and organiser of our three-month long placement, and World Vision, a large international charity that works with children and small communities across the world. 
Our relationship with Progressio has always been a great one. We have received constant support from day one, from training to any issues with our host families. It's fair and just dealings with any problems helped us with the challenges we encountered with our partner organisation in the first few weeks and Progressio dealt with them in an extremely useful and reassuring manner. Overall working with Progressio is an enjoyable experience within which you can help a community and furthermore build a great relationship with the staff. 
Secondly, our partner organisation, World Vision. After a slightly difficult start where perhaps language barriers, misunderstandings and a lack of tolerance for the Honduran culture held us back, we now have a great relationship with the charity. All of the team have a huge respect for World Vision and have the understanding and patience to know that the scale of the charity often means that getting things done quickly can be a complicated task. We feel that this respect is mutual as World Vision has seen our team working hard to accomplish all of our targets and make events work with limited resources, therefore proving our ability to work in a flexible and adaptable way. 
Our relationship further improved after Victor, the Project Coordinator, attended our mid-term review. We really appreciated him being there and we were happy to share all the work we had done with him. The whole team are completed invested in the project and feel that the café will be an invaluable asset to the whole community and we are determined to fulfil all of our objectives during the cycle. 
In conclusion, the past eight weeks have had their challenges both in terms of working with a new partner organisation and building a relationship with the national volunteers, with whom we cannot always communicate everything we want to say. However we have overcome these challenges as a team and are close to completing our targets, but as well as this we have carried many more classes and events than were on the team plan, which we hope will have benefited the community. We all can clearly see the importance of volunteers here in El Carrizal and enjoy seeing the benefits of our presence each week. Every day we are working to provide the community with the skills and infrastructure which are needed, in a sustainable way, ensuring that we involving the national volunteers at each step.   
Written by ICS volunteer Laura Mitchell