I'm going to begin this by introducing myself and giving a couple of personal details because I think it's nice to know whose words you are reading. My name is George Green and I'm a 21 year old student in my third and final year at the University of Birmingham.
I study English Literature and Philosophy and my likes include sport, twitter, and reading, whilst my dislikes include bad manners, spiders, and The Jeremy Kyle Show. These may be irrelevant details, but I think they're fun to start with.
A more pertinent thing to say is that before I volunteered with Progressio ICS I had never really had a proper volunteering experience. I had done bits of charity work, but nothing very substantial, and my interest in ICS simply stemmed from a desire to do something worthwhile with my summer. Safe to say, I had an amazing time volunteering and that is partly why I have chosen to write this blog. 
Another reason I am writing this is because before volunteering for Progressio ICS and having my incredible experience in Malawi, I had a look on Progressio's website for any blogs written by volunteers who had completed their placements and I found that there weren't any. I was interested to read what a volunteer might say about their experience if they were to reflect back on it and the fact that there were no blogs written from this perspective seemed like a missed opportunity to me.
Granted you are able to read about the day-to-day activities of different Progressio ICS volunteer groups because each team has a group blogger who documents what activities they are involved in over the course of the placement. However, for me, these blogs do not quite give you a complete understanding of why it's so fantastic to be an overseas volunteer. 
Part of your duty as a Progressio ICS volunteer is to carry out Action at Home when you return from your placement. The general purpose of this task is to spread the word about Progressio and ICS; telling people about the fantastic opportunities the charity and ICS programme can offer you as well as the brilliant things the charity has achieved in its work.
It's also the starting point of ensuring that volunteers become active global citizens – which is one of the aims of ICS. For part of my Action at Home, I have chosen to write this reflective blog on my experiences in Malawi. For me, it's a good way to give something back to Progressio, as I had such a great time volunteering with them. However, more importantly, it's an effective way of shedding some valuable light on what a volunteer placement with Progressio ICS entails, what can be achieved through one of their placements, and also why you should seriously consider getting involved with the charity as a volunteer. 
There is no doubt that volunteering overseas offers you a unique opportunity to travel to a country you might otherwise never visit and immerse yourself in its culture. However, there are challenges attached to such a thrilling prospect. For one thing, it can be daunting going away for a long period of time with people you don't know. Personally, I was anxious at the prospect of not getting on with others in my group and knowing I'd have to put up with them for ten weeks - a worry that was only exacerbated by the thought that I'd be a long way from home without my family and friends to cheer me up.
However, the good news is that these concerns did not manifest themselves in reality in any way and I can safely say that if you are reading this blog as a potential volunteer and are having the same reservations, then you ought not to worry. I was in a group with six other volunteers and it took an amazingly short amount of time to become good friends and to enjoy the experience as a group. Being a Progressio ICS volunteer gives you the opportunity to do something special which is so different from anything you have ever done before and it is because of this that it is so easy to bond with the others you are with. You are all part of something significant and everything you are involved in throughout the placement only serves to bring you closer together.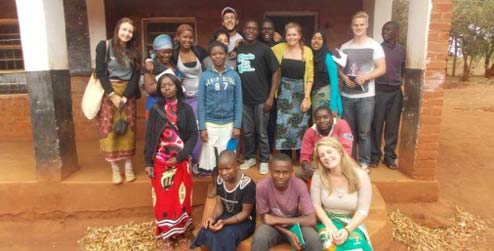 Our team – UK and national volunteers. 
Another very interesting aspect of being a Progressio ICS volunteer is working alongside national volunteers; these being volunteers from the country you are volunteering in. As I volunteered in Malawi, half our volunteering team was made up of Malawian people and this created a very interesting group dynamic. As expected, people from the UK and people from Malawi have significant cultural differences and this fact initially made it hard for us to work very well as a team.
Individuals found it difficult to get their ideas across in team meetings as there was a lack of agreement in the group and this could often slow our progress in getting things done. Our relationship with the Malawian volunteers was one of the most challenging aspects of the placement; however it also turned out to be a very rewarding part. I think a huge benefit of volunteering with Progressio ICS is having this no holds barred exposure to other cultures as it is incredibly beneficial for personal development. Your skills of working with other people are tested to the limit and you mature in the necessity to connect with one another and function as an effective group. An amazing part of the placement for me was becoming close friends with people from such a different culture and Progressio ICS offers a very special opportunity in this.
There is obviously a large focus on personal development with Progressio ICS placements and the experience you have is immensely beneficial in learning more about yourself and other people. However, this is only a small part of the objectives of Progressio ICS. What cannot be underestimated is the impact you and your group are able to have on the community that you work in. Our group was focused on agriculture and HIV awareness and in a nutshell, our day-to-day activities included planting in two different villages and also teaching HIV education sessions at schools and youth groups around the local area. Personally, I loved having the experience of teaching people on such a vital subject and it was also immensely gratifying to plant crops alongside the villagers as I knew that once the placement had finished, I would have left them with something valuable and sustainable.
It was also brilliant to see the transformation in the school children and youth group members. In our first session we were surprised at how limited their knowledge was on the subject of HIV – a worrying fact considering that 12% of the population are diagnosed with the virus. However, by the end of the placement a large number of them were confident to answer the questions we asked on the subject and this was wonderful to see as we had managed to leave them with a strong understanding of how to protect themselves from the virus and also how to stop it spreading.
Progressio's outlook focuses on the long-term rather than offering short-term solutions such as giving money or food and this is what really attracted me to become a volunteer because I knew that I'd be doing work which would have huge benefits to a large number of people over an extensive period of time. It's incredibly satisfying to think that right now people are still benefiting from the work our group carried out in our ten week placement and I believe this is one of the best aspects of being a Progressio ICS volunteer.
I really hope I have been able to give a useful (if a bit brief) insight into the ICS experience. It would be easy to write a lot more about my experience in Malawi and why the volunteering experience Progressio ICS offers is so great, but your attention may now be wavering. I cannot stress enough how worthwhile it has all been and I implore you to get involved whoever you are. You will do some absolutely amazing work which will make a huge difference to people's lives and also your own. So go on… what have you got to lose?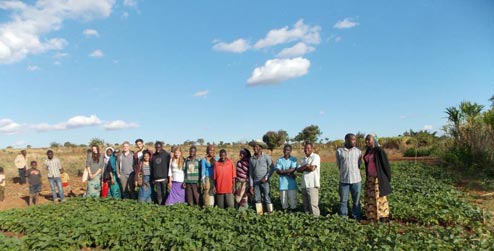 Bean planting in Phalazi village – one of the two villages we worked in for the duration of the placement.