The team first met Msofi during facilitations at one of the villages we visit, Chaleza. A friendly lady who was keen to participate and ask a number of interesting and challenging questions, she was already becoming memorable. Since then I think it's fair to say that Ella Msofi has had quite an impression on us, so much so that we thought we would share her with you. 
Msofi lives at home with her husband, one of her children and 6 grandchildren. Everyday Msofi gets up at 4.30am and starts on the household chores, fetching water from the not-so-nearby bore hole, hoeing the fields and preparing breakfast for the family. Once all of this is done Msofi has to be at the local church for 7.30 where she is the main caregiver at the village Community Based Children's Centre (CBCC). I say caregiver but the chairman of the CBCC frequently shies away from his responsibilities and so Msofi often has to step into that role too.
At the CBCC Msofi can be responsible for up to 45 children between the ages of two and five. The morning starts with an assembly and prayer (which the children can say in Tumbuka AND English – impressive!) before moving on to learning the alphabet, days of the week or numbers. The children finish off their morning with songs and playtime, which keeps Msofi busy until the older children come at around 10am to collect the children. After a busy morning it's time for home where Msofi prepares food, before heading out to the fields, where the family grow maize, cassava, sugar cane and soya beans.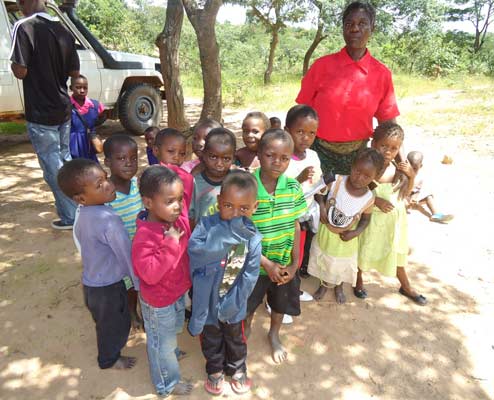 As if all of this wasn't enough for one person Msofi is also chairlady of Kalowa People Living with HIV/AIDs support group. Every other week the group meet to discuss issues they're facing and if they find any members are missing due to illness then a visit is on the cards. The group offer fellow members comfort as well as practical help like fetching water.   
When she eventually finds a minute to herself, Msofi likes to put her feet up and listen to gospel music. Well-deserved we think! 
It is obvious to us that Msofi is a very well respected member of the community; her popularity is not only a credit to her but also a powerful tool in helping to deliver key messages about important issues such as HIV/AIDs and community home based care to her village. Getting word out about meetings to the community can often be a difficult task, not everyone in the villages has a mobile phone and networks can be unreliable, so communication about meetings is done the good old fashioned way – word of mouth. Overcoming these challenges Msofi arranged an important meeting for us with village leaders, support group members and Community Home Based Care volunteers – another group in which Msofi is active! 
What the team admire most about Msofi is her strength, her composure and how she manages to do everything with a smile on her face. That a grandmother can take in so many children and still be, not an active member of the community but an essential one, not only impressed us, but also highlighted a key difference between Malawi and the UK. Here in Malawi, extended families play a much more prominent and often essential role. In UK we rely heavily upon the state to provide support both financially and in the form of care, but in Malawi the whole family is involved in the upbringing of a child, children belong to the community, not just the parents. Despite having very little, Msofi always seems to be first to help others, be it her family or the community and witnessing this has been incredibly inspiring for us all.
What amama Msofi achieves through her hard work has helped to motivate us when we come up against challenges in the field. It makes us feel that what we're doing here is worthwhile, even after a tough day, if there are people like amama Msofi fighting the same battle against poverty and HIV. Upon returning to the UK, one face we'll definitely remember is Msofi's, her kindness, her selflessness and her hard work is our inspiration. 
---
Malawian volunteer Andy and UK volunteer Becky, introduce us to Ella Msofi.
Photo 1: Andy, Msofi and Becky
Photo 2: Msofi with children from the Comunity Based Children's Centre