Muli wuli from team Mzuzu!
We have been polishing up on our Tumbuka language skills in order to make our work with Ungweru, a local non-governmental organisation, even more enjoyable.
Ungweru has eight focuses in which have the opportunity to become involved: HIV/AIDS, Water and Sanitation, Natural Resource Management, Education, Youth Empowerment, Human Rights, Food Security and Information and Communication.
As well as language lessons, our week of orientation in Ungweru has included a detailed insight into the focus areas as well as guidance on how to facilitate successfully, and background information into the culture and customs of Malawi. It has been made clear that in order for our input to be accepted by the local communities, we must conduct ourselves in a culturally sensitive way, or else our work has the potential to be less effective.
We were given a tour of many of the Ungweru projects and were able to see how we may be of help. For example, the Thandazga centre, a community based childcare centre (CBCC) which is run by caregivers who provide the education, and widows who cook one meal of maize a day for the children and also guard the premises. Thandazga was provided with three pigs, one boar and two sows which now litter around three times a year. The piglets have been sold locally as an income generating activity and there are plans for Ungweru to buy some pigs to donate to Kangona, another local CBCC. We will be helping to implement this trade within this coming week and we will also be returning with the Ungweru youth group to help thatch one of the rooves of the CBCC buildings.In Mziki, we met an elderly woman names Rose who had recently had severe health complications and had been sleeping in a house without a roof. We will also be revisiting her to thatch the roof.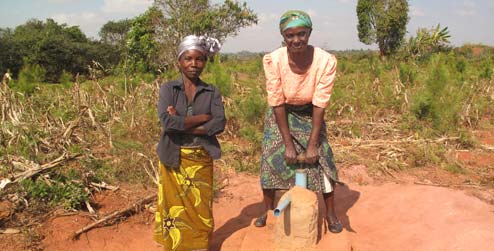 Due to the vastness of the Ungweru programmes, our plans for our time with the organisation cover most of the focus areas. This includes the conducting of assessments of water and sanitation in village homes, measuring facilities against the World Health Organisations' fundamental seven standards for good hygiene practice. In addition, we will each be monitoring a vulnerable child in order to produce a documentary on their lives and their needs to establish what support could be implemented.
As a group, we have been taking steps to become socially involved within the community. We have already joined in with the Ungweru Youth group's volleyball practice and have plans to visit Chitatata, another CBCC, to share food and learn some traditional dancing, and attending local church services. Establishing and enhancing community relations is something that we will continue to develop throughout our time in Malawi.
---
By ICS volunteer Nneka Cummins
Photos by Carolina Motta-Mejia:
Picture 1: Rose Kumwenda (third right) and family in front of her newly built house constructed by the Chief's son Mumza Zikumwenda (second right), Head Village Chief Joseph Zikumwenda (far right) volunteers Nneka Cummins and Chloe Jobling
Picture 2: Thandazga Centre run by widows such as Dalesi Tembo and Mercy Msiska near a water pump installed by Ungweru and Wells for Zoe