The toilet block at Namwiri is nearly ready for handover. It is structurally complete with only the roof and doors to finish. Since splitting into two groups, the pace of the work has increased and the waiting-for-tools-to-become-free has decreased. The door frames have been inserted and the wall to separate the teacher's toilet from the learner's has been built.  We are due to start building at Mdeka Primary on Monday the 6th and as a team, are very much looking forward to getting stuck in again!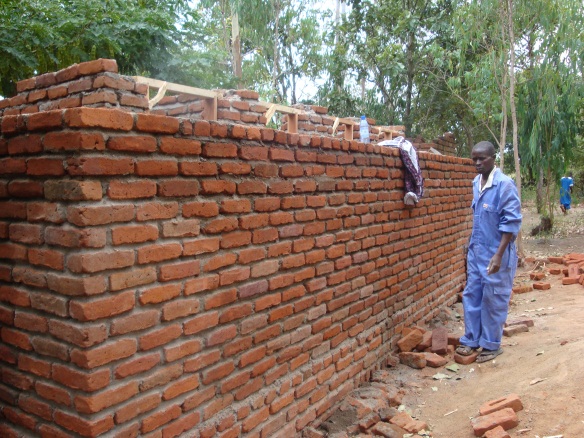 WASH Clubs lessons have been progressing well and the information has currently been delivered to approximately 2000 learners. A particularly positive visit was to Muonekera – we visited for the purpose of life-planning skills lessons and were greeted with a demonstration of the 5 Step NHS hand-washing technique taught to them last week. It was incredibly positive to see that they had taken in the information and were putting it in to practice. These lessons are both interactive and informative for the learners and their level of attention is unparalleled.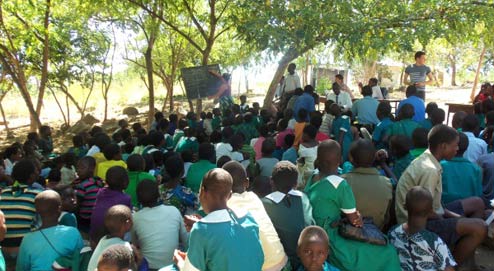 Life-Planning Skills lessons began this week, starting at Chinambiya on Monday. We have now also delivered the lessons to Muonekera and Libuda. We ask the learners to differentiate between genders and race – emphasising that despite aesthetic differences, we all have the same brain and the ability to work hard to reach our goals. The learners at all schools have similar goals in life – to be doctors, nurses, policemen/women or pilots among others. It is interesting to note that despite potential disadvantages such as money or family commitment, they are still ferociously ambitious.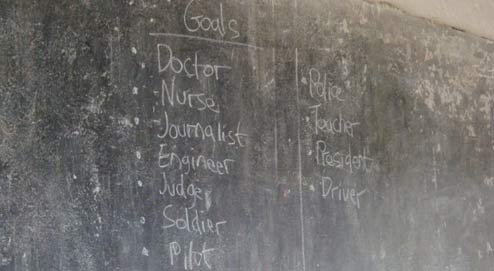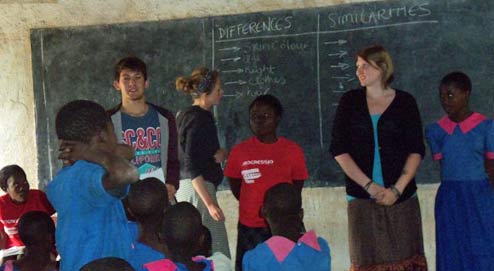 The PSGR office in Mdeka has now been completed – the walls have been painted, window frames have been inserted and the desks and chairs have been cleaned and put in place. Although not part of the initial programme, this task became a small token of our thanks to both Caleb and Frank for their bottomless efforts to ensure we are happy within the placement. As per the pictures below, the transformation is great and we hope Caleb and Frank will find it comfortable.
Alongside the Life-Planning Skills lessons, we have been constructing flower beds around the school so the learners have something to maintain once we have finished the placement. These flower beds are not just for only decorative purposes but it also encourages the learners to work together and take care of their school surroundings. The work is tough physically, especially in the heat, but the progress is immediate.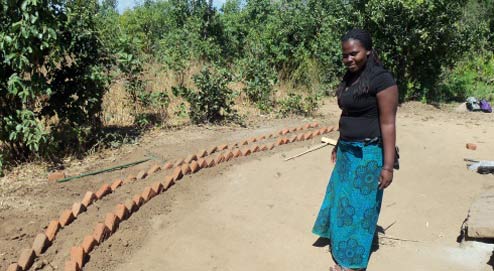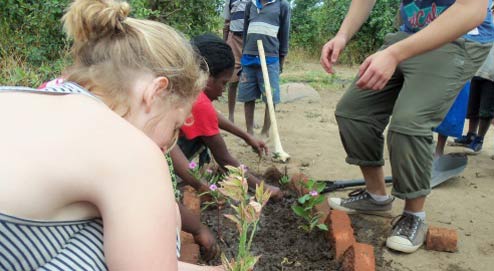 During our visits to the three Women's Groups over the past few weeks we asked the members to provide us with a list of 5 women within their groups that we could visit. These women could include the elderly or people living with HIV/AIDs. Tuesday afternoon was our dedicated time to visit three of these women at Chisomo. We split in to three groups and offered our services for the likes of cleaning, sweeping or washing. 
- Caleb, Alice, Scarlett and Kennedy visited an elderly lady named Bessy – a mother of 15 with only 5 of her children still living, one of which she is in contact with. From an approximate calculation, we estimated she was around 84. Her house was destroyed a few weeks ago due to bad weather so her 'home' now is a 4x4ft bare room (with no door) next to the pig sty and chicken coop. It was noticed that she had a very worn and discoloured bandage on her left leg. Bessy let us clean and re-dress the wound which was healing but still in bad condition. We also supplied her with the means to re-dress the wound within the following few days.
- Frank, Sarah, Jacob and Elube visited Snoria, who lived with one of her daughter's in a small hut on the outskirts of Mdeka Village. We aided them by sweeping around their house and listened to some of their needs. They invited us into their home and showed us where the roof had holes and was leaking on to the two of them; this was particularly problematic when they were trying to sleep. They also showed us their bed, which was a worn mat on the floor. Because it had such big holes, they had used old sacks for maize underneath it, so they were not sleeping on mud.
- Dan, Isla, Tininenje and Ruth visited Hilda, an elderly woman unsure of her exact date of birth. Only 4 of her 12 children are still alive and this clearly pains her, even in her old age. She spends most of the day sitting on the ground shelling beans to be sold at market, but doing this has led to the development of severe back pain and she has trouble walking. We were able to clean around her house, and assist her in shelling beans. 
All three women we visited requested that upon our return we bring them some soap and some basic food stuffs. As a group we agreed it had been one of the more eye-opening experiences of our placement so far, all feeling the attachment and the desire to help despite not having the means to.
As Team Blantyre kick off week 5 of placement, we can only anticipate what is left in store for us!
---
Blog by Alice Moore
Photo 1: Flowerbed at Muonekera Primary School
 Photo 2:Francis, the builder, with the surrounding wall                           
Photo 3: WASH lessons at Libuda Primary                               

Photo 4: WASH lessons at Muonekera Primary
Photo 5: Example of the learners' goals                                     
Photo 6: Examples of Differences and Similarities
Photo 7: Flowerbed at Libuda Primary School
Photo 8:Planting flowers at Libuda