It's been a very eventful two weeks, the highlight of it all I would say is when we did a collaboration day with the other ICS team working with the Centre for Girls and Interaction (CEGI) during International Youth Day on 12 of August. It started off with just the volunteers but quickly grew crowds many of them children. We organised a march through the streets from near the Toviranne office to a local football pitch near the CEGI offices. There we had our own stall, set up along stalls CEGI stalls, and a HIV Testing and Counselling clinic. Our team had a big involvement in influencing the people on getting tested, doing learning workshops about safe condom use, as well as distribution.  
In total on that day alone we tested 101 people, which we were humbled by. The music and dancing was a big factor as always in getting large number of people together. Of course we had challenges, such as certain adults questioning what we are teaching the youth, but our team I think dealt with them pretty well, highlighting what we Toviranne are about and what changes we are trying to bring within the community.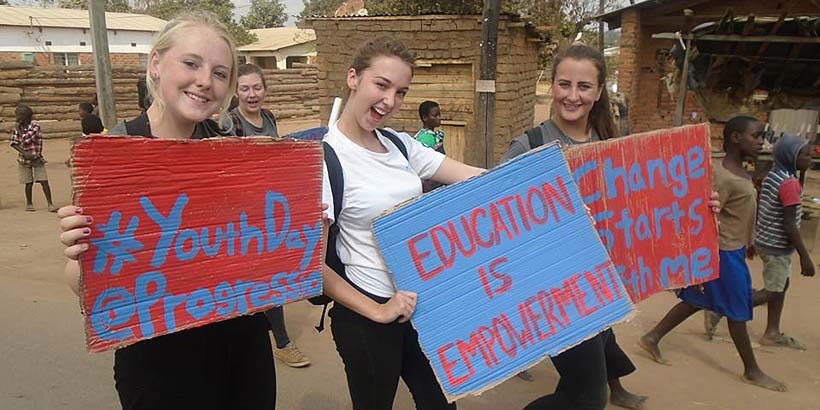 In addition to the successful youth day collaboration we also did our first very own road show this week that was facilitated by the national and the UK volunteers. Everyone was very much involved in one aspect or another. Sally, Nowras, Emily and Induda made great efforts in distributing female and male condoms. In total we managed to give out in the region of 300-400 condoms. Emma facilitated guiding and controlling the HTC room as well as making sure the show was running without any problems.
The location was very emphatic and played a pivotal role in our continued success and hitting new boundaries. The crowd was very attentive to our lessons and particularly loved the Tovirane dancers. They do tend to make things happen when they put on their colourful costumes! These guys, I believe don't get enough credit, but there roles are just as important as anyone else's. I did manage to get an interview with one of them called 'Gift', which was a very fitting name, as he truly is gifted in what he does. I also managed to get an interview with George, which I very much have been anticipating since the get go. He is the guy that keeps us motivated and ready for the next session also organises our transport to and from our sessions. More importantly he is a leader, and leads by example.
We have also decided on our special project, after carefully considering every idea that we had on the table. The team decided which was best and we haven't looked back. We will be working with Mzuzu Central Hospital Teen Club, which operates on the last Saturday of every month as a branch of the Rainbow Clinic. HIV positive teens participate in activities and workshops on how to live a positive life with HIV and how to integrate effectively into society. The project would consist of a weekend of activities within which the teachers and guardians would be trained on Saturday 29 August and then join the HIV positive teens (some of which are unaware of their own status due to guardians not knowing how to disclose it). On Sunday 30 our volunteers would be involved in and oversee Sunday's session, which would be a very useful and informative experience. These are skills we as volunteers do not possess and so the professional facilitators will be funded to deliver the skills and knowledge in an effective way.
The overall impact that we wish to achieve is to decrease the stigma attached to those who are HIV positive and families would become more accepting of members who are HIV positive. An open approach to disclosing status and counselling those who test positive would be implemented to allow for them to live a sufficient and stable life, integrated with others in society. HIV positive people would be awarded the same opportunities as those who test negative, without the inhibition of their own prejudice and lack of belief, as well as that of others surrounding and nurturing them.
As we have been working hard and hitting targets, we were given a day off by the team leaders. Everyone deserves to be rewarded for their hard work right? Well our reward was a day trip to a local Mzuzu Nature Sanctuary. We visited a museum on site with historical animal artefacts as well as seeing wild monkeys, which everyone specially the UK volunteers were very excited about. All in all it was an amazing trip, it promoted team bonding and allowed everyone to get a break and relax outside the city.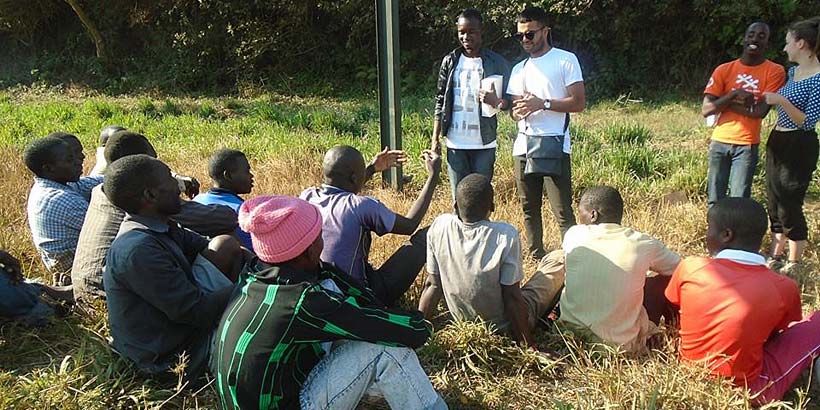 Now that we are coming to an end of this placement I know I have learnt many valuable lessons. I have gained confidence in my own work and ability to perform consistently on a professional level. I have also seen the team grow on personal development levels and also with each other. I'm in love with this place and the people. Goodbyes are hard but this one will be on another scale that won't compare to the rest. For sure I will always have unconditional love for this place and everybody that I've worked with. Mohammed Haque (Visual Media)
The last few weeks have been our most productive yet. We've reached all but one of our targets and we even held our own roadshow testing another 78 people. The team members are really working for each other. I have seen development both on a personal level and within the community work we carry out. Now that we are nearing the end we can reflect on the good work we have done so far and appreciate each member of our unit.
This has not been without some challenges; sessions have required some adaptation and flexibility. We have tackled all obstacles and progressed as individuals as well as together. This experience has been rewarding and informative beyond my expectations. Our recognition amongst the local community portrays the impact we have had and will continue to build on. I am proud of my teammates and feel privileged to have been a piece of this journey. Nowras Tharb (Deputy Team Leader/Community Liaison)
To end our blog, I would like to share a well written poem by volunteer Abby Peckham.
Two planes, one country
London to Lilongwe via Kenya. But our journey doesn't end there, 10 weeks in Mzuzu, in the north third largest city in Malawi, of course.
Working with Tovirane, HIV & AIDS raising awareness in the community encouraging, testing and VMMC (Voluntary Medical Male Circumcision) along with differentiating between AIDS and TB (Tuberculosis).
We stay in host families, I live in Church Square. Commute to the centre, 100 Kwacha fare. We work in our team, and all have a say in where we go and what we do on each day.
My favourite thing so far? Has to be Bawo, the board game with marbles that we allow you play it at the market, with friends and at home. Some people can do it, but I still don't know.
It's been five weeks, but there's only five more to work on the project, buy a Bawo board until we go back, it will be sudden, two planes, one country. Lilongwe to London. Abby Peckham (Language role)  
Written by ICS Team Tovwirane Mzuzu