This is a day for talking about women, or more specifically, about those that are mothers. The 30 May is Nicaragua's Mothers' Day. "Mrs. María" still doesn't know the sex of her third child, who will be born in the next few days to her and her husband, but what she does know is that she will have a healthy source of food in her backyard, as she herself was involved in the planting the seeds. 
Her home, constructed from wood and zinc shelters a family made up of her husband, her eight year old daughter and her five year old son. Her daughter is already at school and knows how to read. Her son will start preschool next year. Very shortly a new member of the family will be born, as she is pregnant again. Her joy at becoming a mother for a third time is, however, sometimes dulled by her daily domestic needs. 
Malnourishment is one of the biggest problems in homes affected by poverty. Thanks to the ICS programme, this week we are building a vegetable patch for this family. Both adults have shown to be very willing. "Mrs. Maria" wanted to see how the seed trays were planted. "I want to see how it's done," she said. "When you leave, I want to carry on growing things so I can provide my kids with a good diet. They love having tomato in their salad. I want to see how to grow pipian. I know it's full of vitamins. They don't like it cooked. I'll fool them with it mixed in a stew!"
This week we managed to build five vegetable patches, which now only need to be sown and finished off with the watering system. We planted two seed trays that we hope will have germinated by Monday.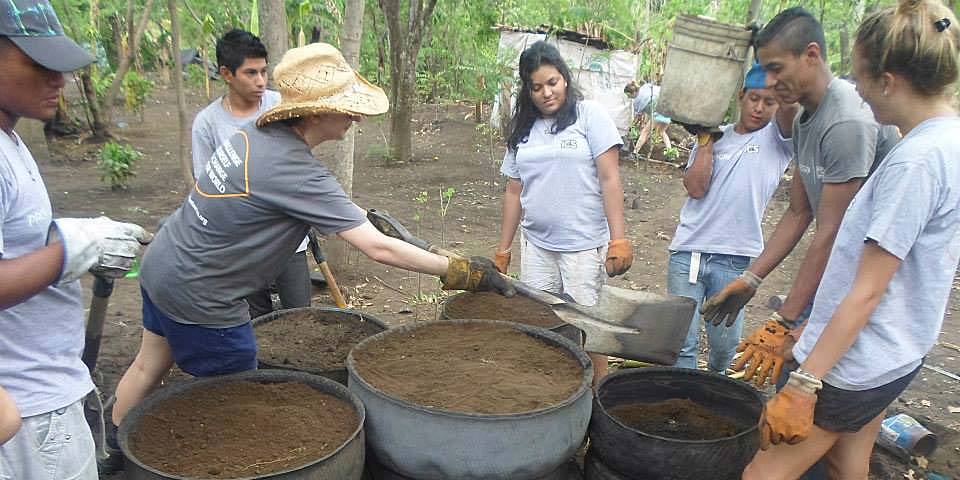 This blog is dedicated to the women who, in Nicaragua, make up more than half the population and are essential to the country's economy. Many of them are home making, single, working, business-owning, creative, or professional "mums." 
Women are not only a demographic majority, and not only house wives, but economically speaking are of integral importance, given that their labour produces almost half the country's wealth. 
The Nicaraguan woman is a symbol of strength, intelligence, cooperation, love… Innovative women, with myriad qualities. Of course, being a mother does not make you a better or worse woman. We are women with energy and will, and the strength that we ICS volunteers bring on a daily basis to our work in the community, can be seen in our work. 
We are women: the flame that sets life alight, the light that fills the world, the strength that drives us forward, the energy that lives on; we are the salt that flavours action. Women are important in our society. We are capable of helping other women and men. This week, one reason for celebrating is our mothers, who gave us us life and who are still there for us now. 
Brief explanation of Mothers' Day in Nicaragua
In order to ingratiate himself with his mother in law, the dictator Anastasio Somoza García decreed in 1940 that 30 May would be Nicaragua's Mothers' Day, as this was Casimira Sacasa Debayle's birthday. Happy Nicaraguan Mothers' Day!
Written by national ICS Group Leader Patricia Zuniga (Group 1)
Hablando de mujeres
Este día es para hablar a las mujeres, específicamente de las que son madres, el próximo 30 de mayo se celebra el día de la madre Nicaragüense. La señora "María" aún no sabe que sexo es la criatura numero tres que nacerá en los próximos días fruto del cariño con su esposo, pero sí sabe que en los próximos meses tendrá alimentación sana en su patio, ella misma estuvo en el proceso de la creación de semilleros.
Su casa de madera y zinc alberga el amor a una familia conformada por su esposo, una niña de ocho años y un varoncito de cinco. La niña ya va a clases y sabe leer, el niño entrara el año siguiente a preescolar. En el próximo mes nacerá una o un nuevo miembro pues nuevamente está embarazada. Su alegría de ser madre por tercera vez a veces se ve opacada por las necesidades diarias del hogar.
La necesidad alimentaria es una de las problemáticas mayores de los hogares en pobreza. Gracias al programa de ICS esta semana construimos un huerto familiar para esta familia. Ambos adultos de este hogar se mostraron muy colaboradores, la señora quiso ver como se hacía el semillero y expreso "Quiero ver como se hace, cuando ustedes se vayan yo quiero seguir produciendo, así voy a tener comida sana para mis chavalos, les encanta comer tomate en ensalada, después quiero ver el proceso del pipián, ese tiene muchas vitaminas, cocido no les gusta yo los engaño con guiso  (guiso es una especie de puré de verduras con crema y especies) entre risas."
Esta semana se lograron construir cinco huertos familiares a la espera solo de ser plantados y terminados con la colocación del sistema de riego, se elaboraron dos semilleros que esperamos ver el lunes con pequeñas germinaciones.  
Este blog dedicado a las mujeres que en Nicaragua forman más de la mitad de la población y aportan a la economía del país, muchas de ellas a cargo de la economía del cuidado, responsables del hogar, madres solteras, trabajadoras, empresarias, emprendedoras, comerciantes, profesionales, "Mamás". 
Las mujeres no solamente son mayoría demográfica, no solamente son amas de casa, sino que en el ámbito económico son de suma importancia, ya que con su trabajo productivo aportan casi la mitad de la riqueza que se produce en el país.
La mujer en Nicaragua significa fuerza, superación, inteligencia, colaboración, amor... Mujeres emprendedoras y llenas de virtudes claro está que ser madres no nos hace mejor o peor mujer, pues ya somos seres con energía,  buena voluntad, la fuerza que llevamos a diario las voluntarias a la comunidad la dejamos impregnada en el trabajo.
Somos mujeres, la llama que enciende la vida, la luz que llena el mundo, la fuerza que empuja, la energía que se contagia. Somos la sal que le da el sabor a las acciones, las mujeres somos importantes en nuestra sociedad, tenemos las capacidades para ayudar a otras mujeres y hombres. Esta semana un motivo de celebración son nuestras madres que nos dieron la vida y aun siguen pendientes de nosotros/as.
Breve reseña del Día de la Madre en Nicaragua 
Como una forma de congraciarse con su suegra, el dictador Anastasio Somoza García decretó en 1940 que el 30 de mayo fuera el Día de la Madre Nicaragüense, ya que esa era la fecha del cumpleaños de Casimira Sacasa Debayle. Feliz día de la madre Nicaragüense!
Escrito por la líder del grupo nacional de ICS Patricia Zuniga (Grupo 1)