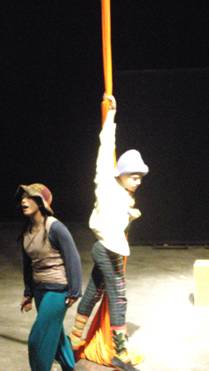 Feeling absolutely on a high from watching the people come together in triumph to perform at a theatre in district three of Villa El Salvador I felt the need to write about it…
The four walls of a black box studio lit with a few lights and with wooden benches placed around was filled with the joy of people who came together to perform, watch, dance and sing as well as present some of the most amazing aerial silk skills, juggling and brilliant acting.
The evening was separated into three parts.
The first was an epic style piece filled with colour and song. It told the tale of the money divides in society which stop ordinary people from being able to access healthcare while the rich are able to do so. Included was a vicious gang attack similar to that of the gang rivalry in the famous musical; 'West Side Story'. In parts the audience fell into silence as the air became tense and filled with the sounds of a woman crying. Superb acting on all parts I would say!
The second, a comedic story of two chefs who used physical theatre and miming to portray absolute hilarity. The children laughed as the two girl's faces lit up with animation acting out a cookery competition sketch. On one side introducing lavish dishes such as 'Quiche Lorraine' and the other 'Lomo Saltado';a typical Peruvian dish consisting of strips of sirloin marinated in vinegar, soy sauce and spices, then stir fried with red onions, parsley and tomatoes, Yum! The local people cheered for it! The piece ended with both comediennes unicycling with their dishes around the stage.
Last but not least, something in which the audience were taken aback by: a solo aerial fabric piece performed by an incredibly physically powerful and energetic girl.It just goes to show, whether on Broadway, the West End or Villa El Salvador, the passion for performing is still alive and immense talent can be found anywhere.

---
Georgie Roberton is a progressio Empower volunteer in Peru