Climate change hits home with a harsher reality when you live close to the land or the sea, whether it thrashes through Haiti in hurricane form killing hundreds, floods living rooms in winter tides and gales in Scottish fishing villages, or wipes out crops without mercy in drought and floods in Salima district in rural Malawi.
But with and without Mercy, the smallholder farming families are fighting back in the scattered villages of Salima.
When hunger comes knocking
You don't need a degree in environmental science to understand what climate change means when hunger comes knocking on your door.
Droughts have been more frequent in sub-Saharan Africa including in Malawi, and this year the first rains have been late, but they did come in December instead of October. And when they came they have come big time, in downpours at times of such raw force they have damaged crops and swept away precious topsoils containing the nutrients that are vital for good yields.
The maths is pretty simple – a decent yield means enough food to eat and a poor yield means hunger.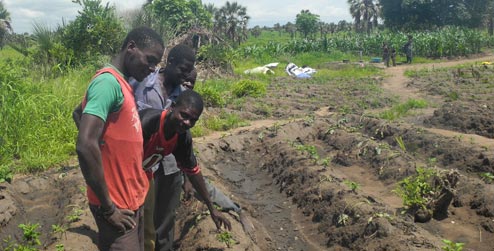 Kasache farmers showing me ridge and troughs techniques to help conserve precious water, and prevent crops getting swept away in rainy season storms
The hunger period
"The hunger period for our families is often October to January in the rainy season. We have no more food from the last harvest and cannot afford to buy enough food at the market," explained a farmer from Kasache village in Salima district near Lake Malawi.
Another farmer, Peter Mulela, added: "Because of climate change we are not getting enough rain and our yield is reduced."
Another kind of Mercy
But as I say, and as I saw, the villagers have an action plan and it is starting to pay off … partly because there's been another kind of Mercy at work too: Mercy Chimpokosera, a Progressio development worker.
Mercy has just finished sharing her skills in agro-ecology with the Malawian NGO Environment Africa (EA), and with the communities in Kasache and many surrounding villages, helping the small-holder farmers to get through the 'hunger period' and invest in a sustainable future.
This has included introducing environmentally sustainable farming techniques with training on how to improve yields, diversify crops and extend harvest times (but that is another story - see my article The Hunger Period on page 36 of Justice magazine).
Climate change, 800 trees at a time
Just as importantly Mercy, EA and the villagers are also putting new roots down for the future. The villagers had worked together with Mercy and EA, sharing agro-ecology expertise with local knowledge to try and tackle some of the challenges they face. They chose to nurture and plant some trees that will help protect crops against the wind; some that produce nuts to supplement their diets or sell at market; and some to help with topsoil retention.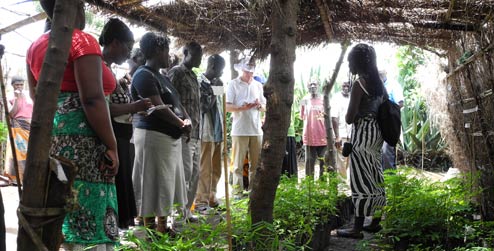 Kasache village's tree nursery, which grows locally sourced tree varieties until they are ready to plant out
I visited the nursery they had erected to nurture the saplings – all labelled and with a record of how many of each variety, it totalled 832 saplings. There will be some early benefits, but the full fruits of their labours will take not effect for many years when the trees have fully grown.
"I hope for a better future for my children," said Annis, one of the 74 women in the tree-planting group as she showed me some of the tree saplings. Mercy and EA have given their support to village after village.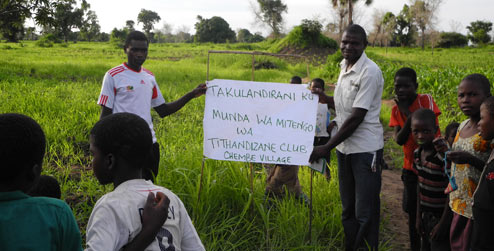 Welcome to Chembe village
Later that afternoon, with the sun already dipping on a sweltering day, Jumrah Mbwana, the group Village Headman, and I had been invited to join a large gathering for a ceremonial tree planting at Chembe. It was an occasion of singing and speeches and of real joy for the whole village.
"We the people of the Chembe Village Forest Club want you to be welcome. After we noticed the issue of climate change and deforestation in the area, we started planting trees of our own initiative - 2,800 trees last year. With Progressio and Environment Africa we walk hand in hand to protect our climate," said the Chairman of the Forest club.
"Even in the face of other challenges we have 3,500 seedlings this year – some are already planted."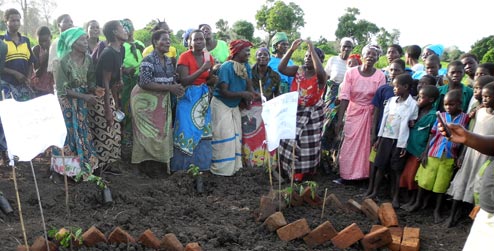 In Chembe, tree planting is a source of pride and celebration, as well as a source of hope for the future
Help us invest in a sustainable future
Across the district, village by village, people are investing in a sustainable future for their children in spite of the hardships they face to get by day to day. Or perhaps it is because of their hardships they invest in climate-benefiting tree planting.
Surely we should play our part too by sacrificing a few luxuries to reduce carbon emissions or making a donation to support people like Mercy and the communities like Chembe, so they have more water, a more stable climate and can continue to celebrate creation and the renewal of our precious planet. Together we can halt climate change - with and without mercy!
P.S. I'm doing my bit by taking part in the 3 peaks challenge in Yorkshire - and raising money for Progressio to reach even more communities in places like Salima. Please take a look at my fundraising page - or donate to support Progressio's work right here!
Thank you.
Mark Lister, Progressio Chief Executive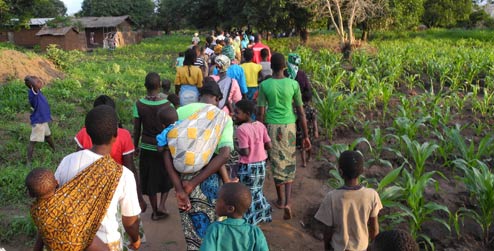 Photo above: Villagers gathering for the tree planting ceremony; Photo at top: Women dancing at the celebration