It's fashionable to talk about climate change these days, and super fashionable to talk about 'recuperating ecosystems' in order to adapt to climate change. Well, who better to talk about all this than a group of people who 1) you don't have to convince about the value of protecting the ecosystems, 2) are fun to be around, and 3) are the future generations?
Who better, in fact, than the girls and boys of El Tamarindo, a coastal community in El Salvador? Watch their video below!
The heart of the matter
El Tamarindo is a small community, next to a river mouth, and surrounded by mangrove. The majority of its residents subsist on fish and small farming. There is one school with one teacher, where children attend up till 6th grade. There is no health clinic. 
The mangrove and the sea are the sources of life of these communities. Every year during the rainy season, residents struggle with loss of homes, crops, animals, pollution of drinkable water by floodwaters, and infrastructure collapse.
When we talk about climate change and vulnerability, these are the communities that come to mind for me.
These are the places where increasingly unpredictable weather patterns, intense rains, heatwaves, rising sea levels, water salinisation, and all the other impacts of climate change that are underway, combined with the vulnerability caused by living in poverty, make the future so precarious.
So let's do something about it
I work with UNES (the environmental movement of El Salvador). UNES' advocacy work on risk management and climate change is underpinned by close collaboration with communities like El Tamarindo.
The first day I met the children of El Tamarindo, I had gone along with UNES colleagues and fellow Progressio development workers who were running a workshop for the adults of the community on mangrove restoration.
My mission was to see if some of the kids might want to make a 'video letter' about ecosystems and livelihoods in El Tamarindo. From one group of children living on the coast, to others, the idea was to share a little bit about where we live and what happens in our communities.
They were interested! They were excited about and proud of their community and leapt at the opportunity to share it.
Let's make a video
"You see this red thing, when it's blinking, you aren't recording, and then when it turns green, you are recording!" That's not me: that's Felix, explaining to Edwin how the camcorder works.
Gloria loved taking photos from the first moment she got a camera in her hands. I watch her cradle the camera in her hands to protect it, meandering along the dirt path, stopping to consider backlighting and focus before she takes a photo of a plant at her height. This is something she wants to be seen by others.  It is a way to celebrate her surroundings.
Felix, Edwin, Gloria – just some of the many children who planned, wrote and shot this wonderful video.
I'm not going to tell you about everything that happened, as it's better that they tell you in their own words. You can watch the video we made together to find out more.
Listen to the experts
"Dirt! Living or not?" As they paused a moment to reflect on their answer, they passed one by one to choose a drawing of a plant or animal and add it to the collective diagram of an ecosystem. It was the second session of a 5 month environmental education project that followed the making of the video. But who was teaching who?
As we started making the video, and I started to get to know the kids, I realised that children have a unique perspective on the risks in a community, and are extremely aware of what is happening in their surroundings.
Every time I would arrive, without even asking they would give me an update: "Maggie! The river swept away another lamp post! Mrs So-and-so is worried that her house is next!"
Or, "Maggie, Family so-and-so went to go live in another village, 'cos if the storm comes this weekend, they are worried they'll get flooded out!"
I began to realise that in addition to being in tune with the risks and potential disasters faced in the community, they are also remarkably in tune with the ecosystems there: the ocean, the mangrove, the swamp, and the river.  All it takes is to ask, and they share a rich knowledge infused with appreciation and pride of what surrounds them.
Watch the video and find out for yourself!
A life-enhancing experience
It's worth mentioning that this experience has been one of the most fulfilling and inspiring of my time as a Progressio development worker.
Practically, it's a valuable and innovative method to work with communities impacted by environmental destruction and climate change.
And personally, it's given me a new perspective on community work and a new vision of how I want to do environmentalist and media work in the world.
Though they won't read this, I want to thank the children of El Tamarindo for all they have taught me through this process, as well as my fellow team mates Sergio Garrido (a biologist also working as a Progressio development worker with UNES), Edver, Brenda, José Angel, Bethsua, and Chino for joining in the adventure.
José Angel, Edver, and Bethsua are youth from the eastern region of the country who we have been working with through a network of youth media makers that we have supported in UNES and Progressio.
In spite of lots of travel, early mornings, and several days away from home, they also joined forces with us to help in sharing their knowledge of photo and video, and learn a little bit themselves about how to facilitate learning processes and deepen their understandings of the environmental situation in the country. This made the process even richer by creating a setting for learning and exchange between young people (of all ages) with different life experiences.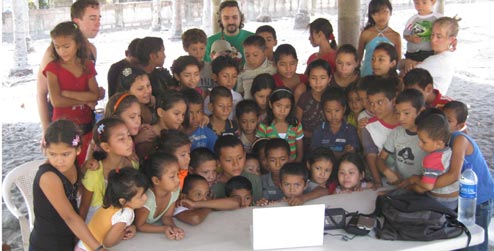 Did you like this story? We'd love to do more work like this! Please donate to Progressio and help give more people the power to change their own lives. Thank you!
---
Maggie Von Vogt is a Progressio development worker in El Salvador. Photo top: Felix and Maggie. Second photo: the children crowd round the laptop watching their video.