For many farming families in the highlands of Marcala, Western Honduras, Climate change is not an abstract concept. Its effects are clear as you visit the communities. It's wreaking havoc throughout the country, distress and hardship falling especially on the poorest people. In this part of the world, extreme weather is worsened by climate change, pushing already vulnerable communities into debt, and closing down opportunities for health education.
In Marcala's communities alone, 80 percent of their subsistence grains (maize and beans) and vegetables production have been lost in this season's harvest. And near Marcala, in Nahuaterique, six houses fell down a month ago as a result of a landslide brought about by this year's heavy storms. In these communities where an average person is already struggling to survive on less than $1 a day, it's hard to bounce back.
Honduras is Central America's poorest country. And Honduras is the third most vulnerable country to extreme weather in the world, only surpassed by Bangladesh and Myanmar.
And judging by the experience of Marcala's small-scale farmers this season, the trend shows little sign of fading away.  On the contrary, "Winds and rain are much heavier now," says Julio Domingo, 40, adding that from April to the beginning of July, the municipality of Marcala was literally lashed by 1,500mm of heavy rainfall, more than twice the regular amount of 600mm.
His neighbour in the Mezcalito community, Catalino Vásquez, 49, also knows a thing or two about the impacts of climate change. Three hours of uninterrupted torrential rains in July caused a landslide to clear three tonnes of fertile land from his plot. "The landslide engulfed the potato seeds I had planted a few days before," Catalino says. He didn't harvest a single potato this season.
Blight
And it's not just landslides that make farming difficult. Catalino says that in the aftermath of the rainy season parasites have "burnt" maize, beans, and other plants. "More and more parasites are emerging season after season," Julio says.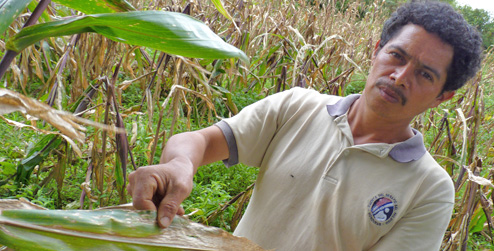 "Parasites and blight multiply with abrupt temperature changes, whether high humidity or intense heat," explains Marvin Zavala as he points to damaged corn, first, and then to banana leaves. Marvin is a Progressio development worker who provides technical assistance to farmers in the Marcala area to help them boost their production.
A remedy for these plagues has been developed, he adds, but it is agro-chemical rather than environmentally-friendly, and expensive too. "As most people cannot afford it, maize harvests end up devastated by the disease and harvests get extremely poor, jeopardising people's food security."
"Those are subsistence crops," Marvin states as he points to the large corn fields surrounding the Mezcalito community. "But now, they are not even that since farmers will not get enough corn to feed themselves and their families for the year."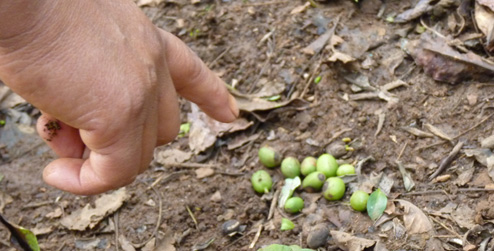 In a coffee-producing area like Marcala the only alternative left is trying to get a job in the big coffee crops picking up coffee grains. "Coffee harvests, however, are once a year. So what do you eat in the meantime?" asks Marvin.
Finance washout
You might think that Catalino's experience might be different. He and his wife Bernardina are role models in the community since going organic, diversified their plot and making a better living out of it. They've been selling their wide range of vegetables at the local market. And they even got to export over 1,400 kilograms of vegetables over the border into El Salvador in previous years, Catalino recalls.
"But this year we sold nothing. Rainfall simply didn't allow us to grow vegetables like we used to," he says. Plus, they struggled to transport the grains and few vegetables they could harvest. "Paths were impassable with mud. Without oxen we could not carry anything."
Catalino's prospects for this year's coffee harvest are at least a little rosier. "Thank God my coffee crops are not in these hillsides," where their house and plots are located, but in lower land, adding: "rains and winds were not as heavy there as here in the hillsides. That is why I have been able to save my yield."
Maria Urdeu, 40, a neighbour in the highlands of Mezcalito and mother of four, says she has lost half of her usual harvest of coffee this year - which is about 30,000 kilograms – due to too much rain. She says she will need to ask for credit to purchase organic fertilizer. Otherwise, the coffee grain will not get enough nutrients and won't grow.
In mountainous Nahuaterique, near Marcala, the picture is even grimmer: all coffee and subsistence grain harvests have been lost due to the cold and heavy rain. And as I was finishing this article, I learnt that up to six houses fell down as a result of last months' torrential rains and landslides.
All in all, as Catalino takes stock of this season's harvest, he cannot be optimistic: his wife and he have earned half of what they used to earn.
A greenhouse cushion
Despite the obstacles standing in the path of Catalino and his family, he can consider himself a humble, if privileged, farmer. Unlike most small-scale farmers in the area, he is combating droughts in the dry season through a small drip irrigation system that allows him to grow vegetables even in times of water scarcity. And although battling the rainy season turns out far more complicated, he has built a greenhouse to help cushion the impacts of climate shifts.
However simple it may be, the greenhouse regulates plants' temperatures preventing diseases. Catalino is currently keeping lettuce plants in the greenhouse for 22 days. "Afterwards, when the plant is bigger, stronger and ready to face the natural environment, it can be planted outside," explains Catalino.
Human progress
Beyond farming though, climate change is having overarching implications in Catalino's life. A bit reluctantly at first, Catalino ends up telling me about the sacrifices his family and he are making to make ends meet. This year's financial losses forced him to borrow money from his neighbour to pay for board and keep, uniform and items for school of his 13 year-old son who is studying in Marcala town.
As I leave Catalino's plot, I realize that most of us link climate change to obvious threats  – poor harvests, hunger, poverty – yet talking about climate change means also talking about compromising education, health and other key issues.
That is why stakes for poor communities are so high at the climate change summit that gets underway in Cancun, Mexico, in a few days. The price for not making serious and binding commitments will continue to be met by the world's poor.
---
Nuria Zayas is a Progressio development worker in Honduras.