2015 marks a pivotal year for international development. Today (25th September) the United Nations (UN) launched a three-day Sustainable Development Summit at the UN headquarters in New York, where the 17 Sustainable Development Goals (SDGs) will be announced. The 17 SDGs are integrated, indivisible and will build on the successes of the Millennium Development Goals (MDGs). They place a focus on the economic, social and environmental dimensions of sustainable development, and will aim to realise human rights for all and achieve gender equality through the empowerment of women and girls.
Gender justice is central to Progressio's work. So, in celebration of the SDG announcement, Progressio staff and supporters took part in a global movement led by Action 2015 yesterday evening, when they joined with 2015 people in a visual stunt on Millennium Bridge. At sunset, each individual held up a bright torch in unison to demonstrate their support for the new global goals, and their commitment to 'lighting the way' to a better future.
Photos of supporters will be hung in 10 Downing Street to remind the government of their commitment to the Global Goals, and film footage will also be delivered to the UN for use at the opening ceremony.
Martin Poulsom, Progressio supporter and Philosophy and Theology Lecturer at Heythrop College, explained why it was important for him to attend the event. He said, "Unless the people of the world tell the leaders of the world what is needed, it simply won't happen. Governments must commit to the SDGs, but to create real change we need everyone to take action." When the MDGs were announced in 2000, Martin was an active campaigner for justice and poverty reduction and, as Chair of the Council of Churches in Liverpool, was responsible for coordinating an ecumenical celebration to welcome in the new millennium. Fifteen years later, Martin recognizes the importance of setting bold, but realistic, goals that offer support to one another: "We need to replace the MDGs with a robust set of goals that will work on a global scale."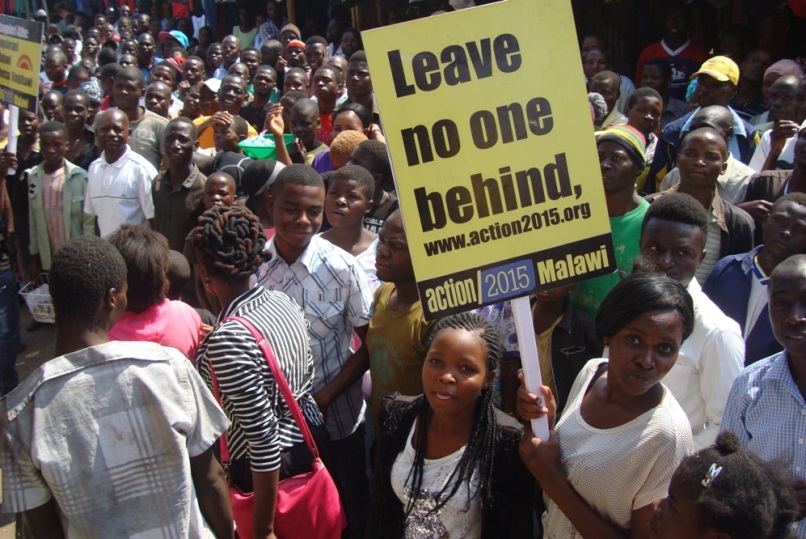 ('Light the Way' movements in Malawi. Credit: Action 2015)
Post-graduate students, Georgia White and Sara Molsberry, became Progressio supporters through links to Progressio's International Citizen Service in Malawi, one of the many countries to host its own 'light the way' event yesterday. In Dehli, India a huge concert for 4000 people saw the historic building Parana Qila ignited in a light show, and in South Africa events have taken place across the country, including a Global Goal stunt in front of Table Mountain.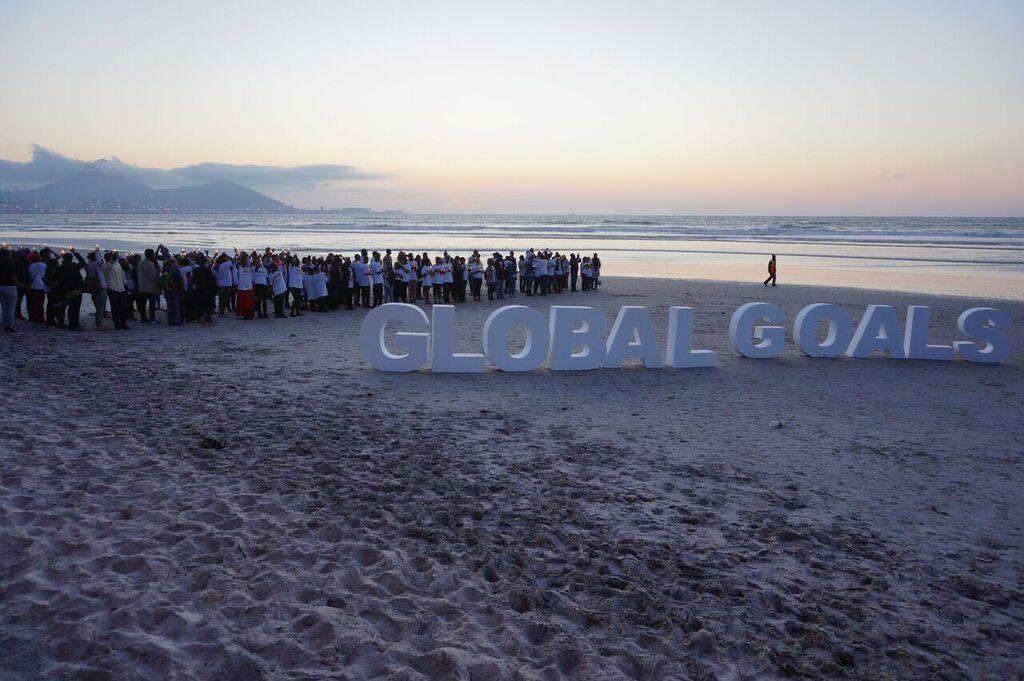 (Global goals event in Cape Town, South Africa. Credit: Action 2015)
Having just finished a master's degree in 'Global Ethics and Human Values' at King's College London, Georgia has now committed to all stages of the SDG-focussed campaigns and will therefore be travelling to Paris in December to attend the UN Climate Conference. Born in Maryland in the USA, Sara has witnessed huge movements in support of the SDGs take place in different parts of the world. This highlighted to  her the powerful impact that the people of the world can have if they become an active citizen: "It is really important to get involved, and to turn your values into social action in order to bring about lasting change."
Pope Francis is speaking at the UN Sustainable Development Summit to demonstrate his unwavering commitment to the world's poorest people and his desire to see an end to inequality on a global scale. If you share Pope Francis' desire for a more equal world then you can take action on Progressio's website. Click here to join hundreds of other Progressio supporters, and stand in solidarity with Pope Francis.