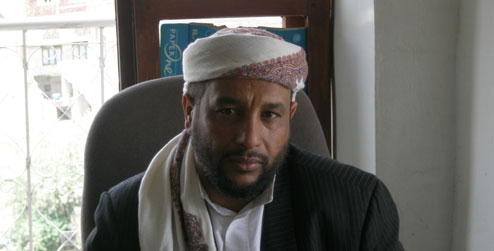 My initial views on HIV were old-fashioned and conservative. After I participated in a workshop on HIV [organised by Progressio's partner organisation, Interaction in Development], I changed my mind about it. I used to think HIV was a punishment from God. I thought it was a punishment for forbidden relations. Through reading and other sources of information, I started realising it is not only transmitted by forbidden sex. I also started to learn about prevention.
I began to preach sermons with correct messages. I would preach about this at the mosque at Friday prayers and at weekday prayers. I deliver an HIV message at least once a month. I also will talk about HIV at other venues, such as at a Qat chew [a gathering of men in the afternoon chewing the leaves of the Qat shrub, which act as a stimulant]. Furthermore, I talk to teachers, school principals, media, TV, radio and the press. So far, no one living with HIV has come to me for support, but I hope that this happens.
I have used various public venues for delivering messages, such as giving talks at bus stops. I try to inform people that HIV is not simply contracted through sinful behaviour. Imams now deliver HIV-related messages at cultural events, shopping centres, barber shops, and summer schools. We talk to people in parks and we speak to students. I videotape my sermons for distribution on how we should integrate people living with HIV into society. We have brochures published, such as on the Islamic perspective of prevention and living with HIV.
I wish more imams would become involved. I think to date about 60% of Yemen's imams have been reached with correct messages about HIV. But we need to do more work with the imams. I think there are three areas of focus for imams in Yemen. One, delivering the message that HIV is not a punishment – it is a crisis for the human race, Muslim and non-Muslim. Two, promoting HIV prevention. And three, integrating people living with HIV into society.
Islam focuses on assisting humanity – Muslim and non-Muslim. We must all honour one another for we are all the sons of Adam.
---
Abdulla Mohammed El Qadesi is an imam and is Assistant Director of the Department of Religious Guidance in Yemen. This interview is published in Progressio's report Prayer alone is not enough (1.86MB PDF).
Photo of Abdulla Mohammed El Qadesi © Progressio
---
Return to HIV and faith page