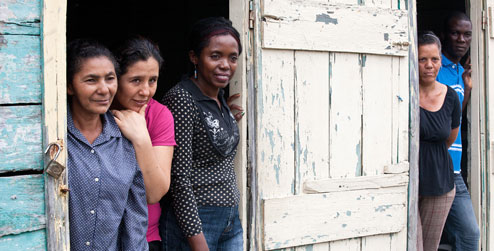 Development worker Karina Cuba (second from left) with Amada Bernal, Quisqueya Proud-Homme, Belcis Leclerc and Wilson Pie - health promoters in Partido, Dominican Republic, with our food security project (photo © Fran Afonso/Progressio)
Challenges
Do more to address gender inequalities and promote opportunities for women throughout the island.
Train more people in local areas so they have the knowledge, ability and confidence to have their say in decisions that affect their lives.
Promote the human rights of all people without discrimination.
Promote the civil participation of all people.
Work with local grassroots organisations to achieve sustainable and diversified agricultural production that conserves and protects the environment and improves the quality of life in communities.
Strengthen people's knowledge and capacity in the prevention and management of natural hazards and disasters.
Read about our policy and advocacy work in support of people in the Dominican Republic and Haiti
Achievements
Built the capacity of civil society organisations in the Dominican Republic and Haiti, enabling them to have a positive impact on public policy and in the communities in which they operate.
Supported processes, analysis and advocacy to achieve greater social investment in the Dominican Republic, especially in health, women's rights and education.
Helped improve legislation related to HIV and AIDS in order to reduce HIV prevalence among the general population and especially among women and youth.
Played a key role in developing the participatory budgeting process (giving people a say in local government spending) and provided training and support for vulnerable and poor communities to participate in this process.
Worked as a member of the Help Haiti platform of organisations to coordinate relief efforts after the January 2010 earthquake.