Timor-Leste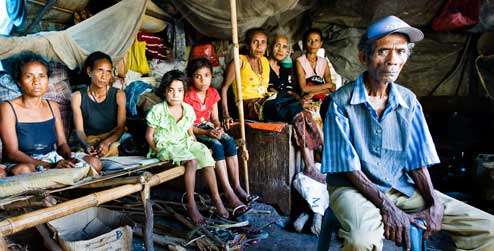 Families sheltering from political unrest in the grounds of the Canossian Convent at Balide in Dili, the capital of Timor-Leste. Photo © Marcus Perkins/Progressio
Timor-Leste's struggle for independence from 25 years of Indonesian rule came at a heavy cost. Some 100,000 people died during the occupation. As the Indonesian army retreated, following the vote for independence in a UN-supervised referendum in 1999, it destroyed 70% of the country's infrastructure and forcibly displaced 300,000 people. A third of them have yet to return to their homes.
People have been left in poverty by the occupation and the difficult transition to independence. Timor-Leste is one of the poorest countries in the world – ranked 150th, a drop of ten places since 2005. For the country's young people there appears to be no future.
And justice has still to come to Timor-Leste. Victims of human rights abuses have not seen anyone brought to justice. As one woman, Luisa Da Jesus, said: "Our hearts cannot heal because those who committed the crimes have still not been punished."
This lack of justice means the country is trapped in its violent past. Cycles of violence and mistrust continue, leading to social and economic instability.
That's why Progressio has campaigned internationally for justice for Timor-Leste – and has worked on the ground in Timor-Leste to strengthen the justice system.
We're also working to build the capacity of the Timorese people to develop their fledgling nation.
Our development workers work with local NGOs and community-based organisations to help them deliver better services to local communities. We work with women's groups and networks to help them empower women. And we work to tackle environmental degradation and build environmentally sustainable livelihoods.
Timor-Leste blog posts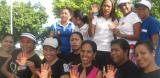 Timor-Leste dances and shouts: Stop violence against women!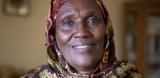 International Women's Day: Women deserve better
Lizzette Robleto Gonzalez
4 March 2013