This week was the first of our sessions, with sessions running from Monday to Wednesday and Thursday and Friday dedicated to planning. The first session that I lead was a mothers' group in Chatindo, which was really successful. We had 29 mothers turn up with more people continuing to turn up throughout the session. This session we focused on establishing relationships with mothers and helping them to establish a support group that will continue to run and meet up after we have completed our ICS placement. We collected our data through questionnaires and baselines and also focused on finding out what type of knowledge and skills they would like to develop throughout the following weeks. We found that many of the mothers were expecting us to put money into projects that they wanted to run but we were here to provide aid such as medicine, food and other materials. We found this challenging because although we would really like to provide these things we are young people who are volunteering with low incomes in the UK. As an alternative we thought about introducing a programme called SILC into this mothers group - the same type of sessions we were planning to run with the out of school youths to help them gain access to income generating activities. 
SILC stands for Saving and Internal Lending Communities and is a programme that focuses on providing opportunities for a group of 10 to 25 individuals to invest in income generating activities by contributing a certain amount of money each month into a village bank. Each of the group members gives an amount for example USD$2 a month to the village bank. They can then borrow the money for their own projects for example buying a chicken to grow and then sell, gain a profit and then give the money back to the village bank as well as an interest rate that the group agrees upon. A constitution is written up and designed by the group with their own policies regarding interest rate, loans, fines etc. As well as having the village banks, many groups implement a social fund where a small contribution is being made monthly for example 50 cents, to be used for emergencies. For example, if a group family member becomes sick and they need to pay for medication, they can borrow the money and then pay it back interest free - a great support network for the community. 
We decided to work with a group of 15-20 orphans aged 7-12 years old and we found that mobilisation of orphan groups across the communities was pretty successful with many children turning up. However, as we ran the sessions of games and introductions, more children joined in who were not orphans, which was a challenge because at the end of the session we had to explain the parameters of the groups we were forming. I found this particularly hard to turn away individuals because although some of the children were not orphaned you feel like there is so much that you want to teach them and give them experiences that they will remember and grow from.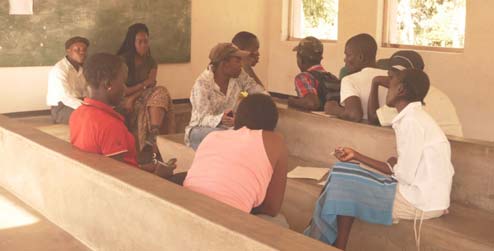 Another challenge faced was the mobilisation of the out of school youths. We found this group very hard to reach and despite our best efforts of talking to individuals, taking down numbers, putting up posters and handing out flyers, the numbers of attendance have continued to be low. This is something that we are addressing in our team meeting at the end of this week to really gather some ideas together and create a plan of action to really get these young people engaged in our project.  
By ICS volunteer Esther Denton