Nuria Zayas reports from Honduras on how members of the Mezcalito community are taking measures to protect the water sources in their local area.
"In our community cattle have more rights to water than human beings," says Mr Agustin Dominguez (pictured above). It's become Agustin's catch-phrase these days. He uses it whenever I visit the Mezcalito community, near Marcala, in western Honduras.
Agustin is a small-scale farmer and is very engaged in community affairs. He speaks with an invariably serious expression, and you quickly realise how worried he is about water scarcity and the problems associated with accessing safe water for human consumption in Mezcalito and the surrounding communities. A long-standing member of the Mezcalito Drinking Water Board, he's just taken on the role of president.
"Every year forests are burned to make way for pasture," he explains. Deforestation, driven by extensive cattle farming, is indeed wreaking havoc on the availability of water.
Something in the water?
Last year, most people in Mezcalito and the nearby communities of Fatima and Planes suffered one of the most serious crises in recent times. They ran out of drinking water for three months. "People had to take a long walk to wash their clothes and fetch water to drink. We, the men, stopped working just to go get the water," Agustin recalls.
Water quality deteriorated and people's health suffered as a result.  A few cows died in the water upstream from the community. "Nobody had warned us about it, so people drank the polluted water and suffered from diarrhoea and stomach diseases as a consequence. Those of us on the water board had to take the animals' remains out of the stream and bury them. We had to work hard to stop the contaminated water from coming to our homes and we had to clean it with lime and chlorine."
That was just the tip of the iceberg. The problem of contaminated water is goes much deeper. The widespread use of agrochemicals, animal vaccines and irresponsible management of livestock excrement all contribute to contaminating the watershed.
The haves and the have-nots
But the story illustrates conflicts relating water access in many parts of Honduras. Land in the community is privately owned, mostly by large-scale livestock farmers. In the dry season, this means that while land owners can access water, a significant portion of the Mezcalito population (250 out of 500 people) cannot.
Agustin speaks plainly: "They do not care about our access to safe water as they do not live in the community, yet their cows enjoy more privileges than our children do."
Getting to the source of the problem
Last year's problems with water access and pollution triggered community action on the issues. With technical advice from Marvin Zavala, a Progressio development worker, the Mezcalito Drinking Water Board took measures to set a higher-up portion of the watershed off-limits so as to protect and reforest it.
Members of the Water Board raised awareness in the community about the need to manage the watershed sustainably. They pooled their resources and despite their low incomes, managed to purchase the watershed's recharge area (about 1 hectare + 500m2). They set it off limits with barbed wire to prevent livestock from entering the zone, and planted up to 3,000 low-water-consumption trees. Now, they are building water troughs in areas that are still not protected so that animals can use them rather than polluting the community's water sources.
The process was anything but easy. Honduras' Forestry Law requires that basins and watersheds that supply water for domestic uses and electricity generation are submitted to a special management system. Also, the General Law on Water and Sanitation stipulates that the land needed to ensure basic public services can expropriated if owners are not willing to sell.
Yet, in practice, the neighbours of Mezcalito were only entitled to use the stream's source. And that was insufficient to provide water to the community.
Jumping the hurdles before time and water runs out
Marvin tells me that the main hurdle in Honduras is a lack of enforcement of laws on water and environmental issues – as is the case with a lot of other issues. That is why Progressio's next step is to back the Drinking Water Board in the community by training its members on understanding the environmental legal framework and policies. The goal is for the people to learn their rights and turn them into a reality.
Agustin insists on the need to strengthen people's advocacy skills. He feels that currently the will of cattle farmers prevails over people's basic right to drinking water. And as the new president of the board, he is determined to turn this situation around.
Extensive cattle farming not only has an impact on the quality and quantity of water available, it also destroys forests and contributes to global warming: it accounts for 18% of worldwide greenhouse gas emissions.
Marvin points out that it has a bigger impact on climate change than that of converting land to agricultural use: "It consumes more space than agriculture as each cattle head receives 1 hectare. So if you have 100 cows, you need 100 hectares. For cattle farmers, large-scale farming is really cheap, but the impact on forests and water is tremendous."
Promoting water justice
In the municipality of Marcala, Progressio has been working on water comprehensively since 2007. First, ensuring water for crops by training people on how to build a 21-hectares 'irrigation district', which has allowed families from four communities to start growing different vegetables throughout the year, adapt to climate change and raise their income.
Now, and with funding from mobile company Digicel, Progressio is advising the most vulnerable on how to protect their water sources before it is too late.
"In the future, in 20 years, with more people, more homesteads and less water day after day, what will happen to this community and to our children?" Agustin wonders. "We feel like something is taken away from us every day. If we don't speak out now, we will all run out of water."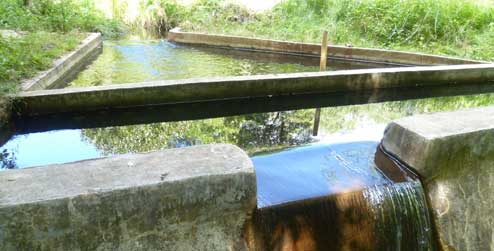 ---
Nuria Zayas is a Progressio development worker in Honduras. Photos: (top) Agustin beside one of the fences used to prevent livestock from polluting the watershed; (bottom) water reservoir at the Mezcalito watershed.