Laura Foster writes:
There are currently 34 million people living with HIV across the globe. It is estimated that half of the 7,400 people who are newly diagnosed with HIV every day are under the age of 25. This makes young people the most vulnerable group when it comes to HIV.
To commemorate World AIDS Day, and to take a stand against statistics like these, members of Progressio Empower organised 'Have 1 Voice' on Sunday afternoon at the Wenlock & Essex pub in Islington - a spoken word event that was put on to raise awareness about how HIV affects young people. The occasion drew in 65 guests, all eagerly waiting for what promised to be a fantastic line-up of spoken word artists and performers.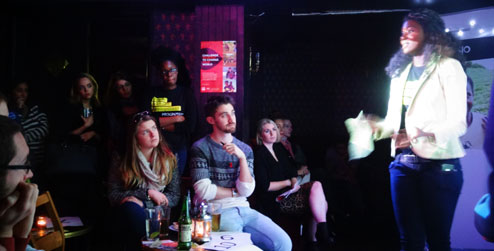 As a novice to the world of spoken word, I didn't quite know what to expect when artists Keshav Bhatt, Emma Justice and Seasick Soul (among others) took to the stage to perform their work. I was pleasantly surprised however, not only by the quality of each artist's original material, but also by their ability to convey their work in a truly heartfelt and moving way. Each performance managed to explore and interpret, in their own artistically individual way, the impact that HIV has for those living with the virus.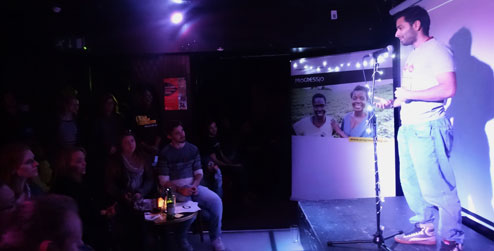 Keshav Bhatt (above), whose poetry was enthusiastically applauded by the audience, said: "Having personally worked with people living with HIV and AIDS in Africa, I feel really passionately about this issue as its impact is so wide reaching. So many people's lives have been devastated by the virus and I feel it is my responsibility to do what I can to support any HIV related cause."
Audience participation was in full swing throughout the event as each artist was scored out of ten, resulting in Seasick Soul securing a first place prize after their engaging performance. A three prize raffle ended the evening on a high, and myself and other members of the audience came away from the event feeling particularly excited about the chance to implement more positive change for people living with HIV in the future.
James Dagnall, a Progressio Empower volunteer, said: "Today was about communicating the problems with HIV and what Progressio are doing to get over those issues. I went out to Zimbabwe with the International Citizen Service working with Progressio, and the work that we were doing out there was very much reducing the stigma attached to HIV and reducing the level of HIV and how to prevent it. I think it's a great opportunity having events like 'Have 1 Voice' to come back and say 'this is the work we've done'."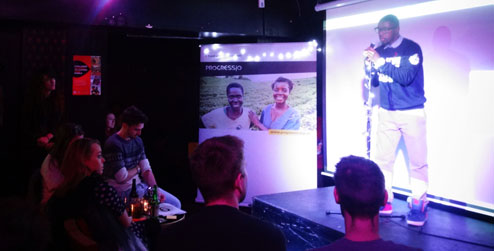 'Have 1 Voice' raised a total of £328.75 for Progressio's work empowering people living with HIV and AIDS to be able to access adequate care and support and to live their lives free from stigma and discrimination.
---
Laura Foster is currently volunteering in Progressio's UK office. Photos by Maddie Dicks.
Photos from top: former ICS volunteer Emma Justice performing on stage; former ICS volunteer Lily Chamunorwa giving a presentation about Progressio's work; Keshav Bhatt performing on stage; an audience member holds up a scorecard; 'Pitch Imperfect' performing on stage.