During the first couple of weeks here we have been doing a lot of networking and establishing relationships with the local community. We have also been putting our Chitumbuka (the language spoken in Mzimba) into practice: when we walk through the town the local people shout Monile! (Hello) and how are you? and we proudly reply back to them in Chitumbuka.
The first group we were introduced to was the Manerela+ youth group (Manerela+ is our local partner organisation, working on HIV prevention and care). We were able to sit in on their meeting where they were discussing fundraising ideas, it was amazing to see how readily they welcomed our ideas and opinions.
Next we met children over at Future Vision, a group also set up by Manerela+. There were over 100 children aged between 3-12 years old. When we arrived they sang a sweet little song to welcome us, some of the children recited poems that they had prepared, and then we participated in a range of different games with them. When we left the children rushed to hug us all, we were literally pinned down by them, they are so loving and appreciative of us being here, it's overwhelming!
Later that week we visited the "Kaphuta" School. We met the head teacher and we were allowed to observe a special needs class taught by Mr P; some of the children were orphans. Mr P told us he was able to get the special needs students integrated with the regular students through civil education lessons.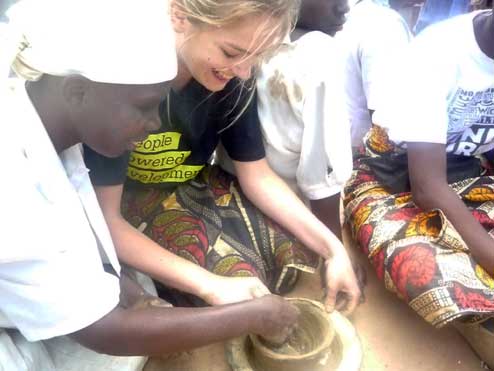 ICS volunteer Beth Fensome cultivating her clay pot, with the help of the village women. Photo taken by Pastor Tcharli.
On the 26th of April we visited a small village in Mzimba. People here do not go to school. Everybody is very entrepreneurial in this village, they grow their own crops, produce clay pots, tinned lamps and much more. I, along with the other girls in the group, had a chance to make our own clay pots whilst the boys went to work with the tinsmith. The women in the village make their clay pots with such grace and ease no machinery is used only their hands. 
Although the people in the village do not have formal education their practical skills are second to none. Most of us (westerners) are not able make our own clothes, grow our own food and build our own houses from scratch, so I cannot help but find their way of life inspiring.
Participating in activities with the local people and building relationships enables us to integrate with the community more effectively: people will receive us better if we become a part of the community. We are not just here to teach, we are here to learn also. We have been laying the foundations for the past few weeks, and we are now looking forward to the projects ahead such as speaking at the HIV/AIDS support sessions organised by Manerela+.
---
By ICS Progressio volunteer Tashann Barnett. Photo: Tashann poses with the "Future Vision" children. Photo taken by Otis Lacey.