In a village surrounded by African bush, where it is 'normal' for men to have three wives and 15 children to call their own; a place entrapped in Tonga-tribe traditions, peppered with Catholic ideology, it is a wonder that women have any say at all.
But after meeting women at the Kariyangwe Parish Catholic Commission for Justice and Peace (CCJP) group, Binga, I was thrilled to see that women are in fact fighting tradition. They are becoming more vocal, active members of the community, thanks to the support of Progressio development worker, Arkmore Kori (pictured below).
Arkmore has been working with the CCJP for the last year teaching men and women about human rights. He has led workshops to both women and men, getting them to sit around the same table to understand their rights, their roles in the community, and the power they have when united.
Building bridges
In doing so Arkmore has inspired the Kariyangwe Parish CCJP to come together and fight for their community. He has helped men and women from across the villages to set up a weekly meeting to plan how to lobby local authorities and businesses to rebuild the Lubu bridge, linking Kariyangwe to the larger communities; giving them access to schools, hospitals and local markets. (Arkmore is pictured above alongside the ruined bridge; the photo at top shows women collecting water near the bridge.)
Since the bridge collapsed a year ago due to heavy floods there have been a number of devastating consequences. It has been a major contributor to deaths in the region with some 21 women suffering with miscarriages and 42 dying of malaria, due to delays in seeking treatment. Teachers have also not been able to work and many children have missed out on school and exams.  The Lubu bridge has been a major concern of the entire community and was chosen by the Kariyangwe Parish CCJP as their first major challenge.
The group have been meeting on a weekly basis, they have taken trips to local businesses to rally support for the bridge and raise funds to cover the costs, they have also won support from people in the neighbouring communities, but there is still much more work to be done before the bridge is re-built.
Growing in confidence
However, by participating in the workshops, by standing up in meetings and working together with the men on issues of governance in the area, these women have grown in confidence and have developed the skills to take on roles of leadership, taking them a step away from tradition.
Eunice Mwinde (pictured above) said: "Sometimes men looked down on us and did not see us as people. Men deprive women of their rights, but with the CCJP we are working with the men to change this."
She explained that the main problem with women in the local area is lack of education and said: "with lack of knowledge comes fear".
Nomai Muleya (with red bandana in the front row of the photo below) said: "We used to push the men to be in front of us. But now we go out there and communicate with other people."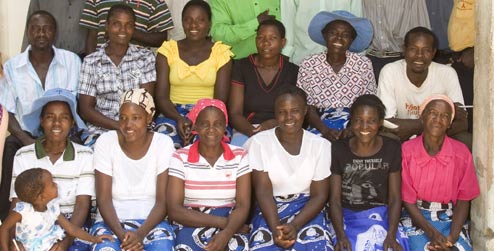 Overcoming cultural attitudes
The problems facing women are inherent in the culture: they are seen as second class citizens, property owned by men; they are expected to work as farmers on the land, tend to their husbands and look after their children; and the harsh reality is they do often come up against violence in their homes.
However, while there is still a long way to go before men and women in the Tonga regions step forward towards equality, women at least are now aware of their rights. They know where to seek help. They know they have a voice and they are becoming more confident in using that voice to bring positive change to their own lives and the lives of those in the community. In taking this first step away from tradition these women hope to inspire their children so they do not face the same fate.
Nsolwes Mugancle (above, front row second left, brown bandana) said: "When we were taught about the importance of coming together as a group and working together we told our husbands and they understood that. We do our household chores and if we have time we attend our workshops. The men understand that what we are coming for is learning and development. We show the minutes, we show them what type of work we are doing and they appreciate that."
After speaking with these women (see photo below), hearing their stories and seeing their passion to bring about change to their lives – despite living in such difficult circumstances, in which gender inequality leads to such in-built injustice – I was in awe of them. These are women to look up to, to remember and to draw inspiration from.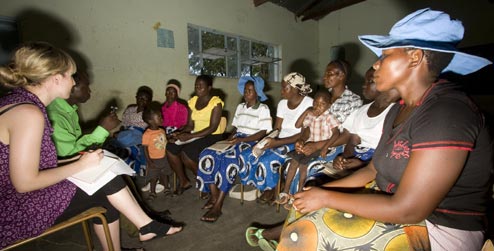 Messages for other women
I asked them what message they would pass on to other women facing difficult circumstances.
Jane Munenge (white shirt, second from right in photo above) said: '"As women we urge them not to fear. We have the same feelings and we have seen change with women getting senior positions. We urge women to work with other women and men to help develop their society."
Eunice Mwinde (yellow shirt) said: "No matter how hard the challenges are don't give up, don't divorce your husband. Tolerate whatever may come, cope, and you shall adapt to the situation. Things are not always the same, they might change. There is advocacy, there is lobbying and there is knowledge around. Don't give up."
I spent two weeks visiting Progressio projects in Zimbabwe. Despite the stories of success, of water scarcity, of the on-going battle with HIV and AIDS, the one part of the trip which will always strike a chord with me is the women I met along the way.
---
Pamela Jackson is Progressio's Fundraising Executive. She visited Zimbabwe in February 2012. Photos © Macpherson Photography/Progressio