Wawa! Masukani! Hie Feel free! These were our welcoming words for our UK volunteers on 1st October 2013 at Messa's Lodge in Lilongwe city. On Wednesday, 2nd October 2013, we started our orientation lessons on the culture of Malawi and the common language used in Malawi i.e. Chichewa. By the end of the orientation lessons, UK volunteers were able to understand Malawian culture and language. For example they were able to greet one another in Chichewa "Mwadzuka bwanji? which corresponds to Good morning! in English. (On Tuesday, the 8th of October we departed for Nkhotakota without the UK volunteers for other reasons). 
The journey from Lilongwe back to our base (Nkhota-kota) was ok though we sadly missed our UK counterparts and we reported for duties at SWAM's Nkhota-kota office on 9th October 2013.  On 10th October, we started our work in Lozi and Chia catchment areas where we constructed 7 vegetable gardens for the elderly persons.  We constructed 3 gardens in Chia community and 4 vegetable gardens in Lozi community. In Chia, the work was done in the following villages: Ching'amba, Chikho and Chizongwe whereas in Lozi, we constructed 4 vegetable gardens in Kampanje, seleman and chikanda villages.
On Friday 11th October 2013, we started cash transfer program to the elderly. The total beneficiaries are 90 with 51 beneficiaries coming from Lozi catchment area and 39 beneficiaries coming from Chia catchment area. These beneficiaries do receive total sum of MK 2,500 (USD 7) each per month for use in meeting their household needs. These are old community members who do not have reliable livelihood opportunities and are basically weak to work in their fields. 
We started with Lozi catchment area in the following in the following villages: Selemani, Kampanje, Chiboko, Ching'anyira, Chikanda and Fodya. In addition to the money they received, some beneficiaries received window flames and plastic papers that will be used to maintain their houses. The pictures below show some beneficiaries who benefited from this programme in Lozi catchment area;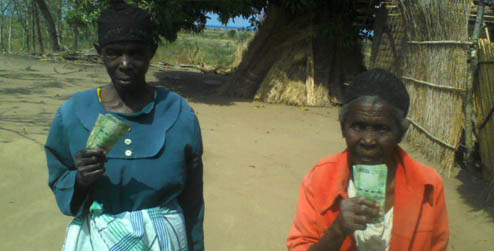 On 14th October 2013, we went to Chia catchment area in the following villages: Ching'amba, Mgombe, Chizongwe, Mtaya and Chikho on the same programme of cash transfer. In Chia, we reached out to the 39 beneficiaries the programme works with. Some beneficiaries also received window flames and plastic papers to be used during maintenance of their houses.
After the cash transfer activity, the elderly persons were very happy and had these words to say in Chichewa: "Aah! Jamane tele ndife okondwa, Mulungu adzikutsogolerani!!"  translated as "We are very happy and God must guide you". The programme is funded by the Danish Church Aid (DCA) from Denmark through SWAM. 
---
This blog is by the in-country team in Malawi with SWAM